07 juin 2015
Bien, continuons à remonter le temps pour découvrir ma cousette du mois de janvier 2015. Les photos ont été prises cet hiver, vous m'excuserez donc pour le gros gilet alors qu'il fait 30°C dehors!
A l'instar de Louise (Une parisienne en Helvétie) qui a décidé de coudre une chemise par mois cette année, j'ai également fait le constat que ma garde-robe manquait cruellement de chemises et qu'il fallait donc que je m'y mette. Mais sans pression. On connaît mon rythme effréné de couture donc "qui va piano, va sano" et je ne me souviens plus de la suite.
J'ai donc décidé de commencer mon année avec la chemise Archer de Grainline studio. Je ne vous la présente pas car je dois être la dernière personne de la blogosphère à coudre cette chemise.
OK, let's continue to go back in time to see my first make of 2015, which I made in early january. I also took the pictures this winter, so please excuse me for the big cardigan! Well let's just say that I'm in sync with our friends from the southern hemisphere.
Just like Louise from the blog "Une parisienne en Helvétie", who decided to sew a shirt each month this year, I noticed that my wardrobe was sorely lacking shirts and I'd better get to it. I didn't self imposed any deadline, because let's be realistic, I would never respect any of it.
I started with the Archer shirt from Graineline studio. I won't describe it to you because I think I'm last last sewing blogger to make this shirt!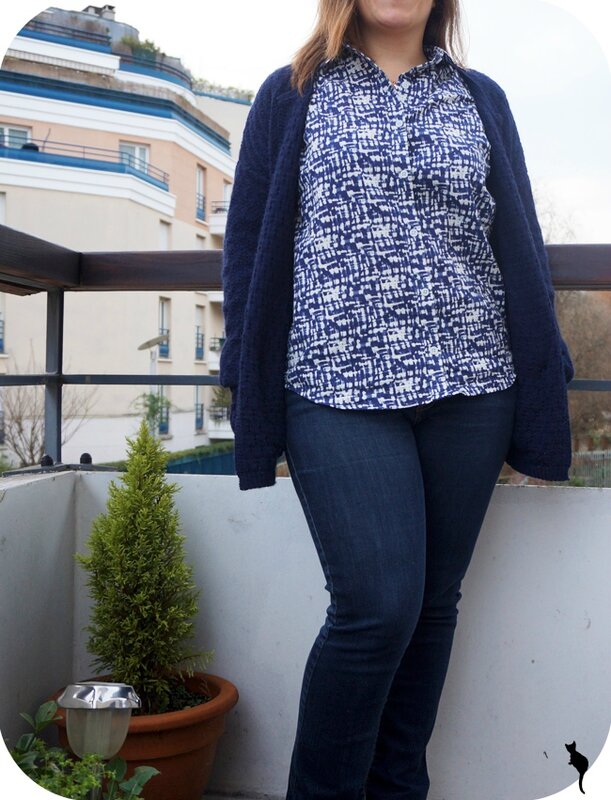 J'ai acheté le patron en pdf au mois de décembre dernier. J'ai d'ailleurs bien galéré car le site n'acceptait pas ma carte bleue et je n'ai pas de compte paypal. Après 2 jours de frustration, je me suis débrouillée avec ma stagiaire américaine.
I bought the pattern as a pdf last december as Jen was having a sale. And I almost couldn't get it as the site didn't accept my credit card and I don't have any paypal account. After 2 days of unsuccessfull attempts my american intern saved the day.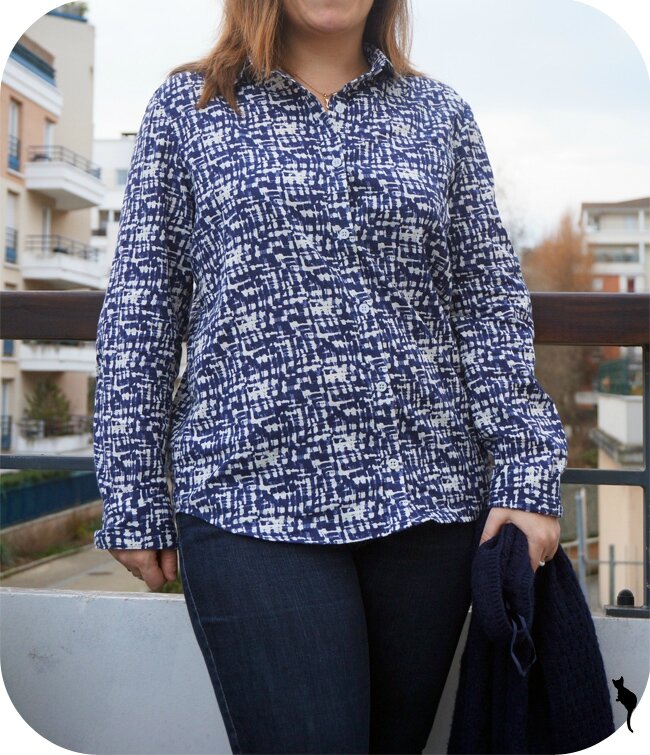 Le tissu est un coton assez ferme qui m'a été offert par Alice du blog Queen of darts (anciennement Moonbeam), lors d'un jeu qu'elle a organisé l'an dernier pour l'anniversaire de son blog. Allez voir la robe qu'elle avait faite avec ce tissu, magnifique!
Les boutons (en verre) viennent encore du stock de ma grand-mère.
Les explications de Jen et le sew-along sur son site rendent le montage de la chemise hyper facile. J'aime beaucoup que les manches soient montées à plat, autant de sueurs froides en moins! Pour l'empiècement, j'ai fait la méthode du burrito, c'est top. Pour le col, j'ai suivi le tutoriel d'Andrea du blog Four square walls.
J'ai donc fait la version A du patron mais avec les poignets droits. Je crois que mes mensurations me mettaient dans la taille 10 pour le buste et sans doute au moins 12 pour la taille et les hanche. Comme c'est une chemise dessinée avec beaucoup d'aisance, j'ai fait une taille 10 partout et j'ai bien fait.
Comme vous pouvez le voir, les épaules sont légèrement tombantes mais sans m'avaler complètement. Je ne crois pas avoir modifié la longueur du patron et étrangement ce n'est pas beaucoup trop long sur mon mètre 55. Par contre les manches sont clairement trop longues d'environ 5 cm, et les poignets sont bien trop larges. Pour le seyant du reste je ne sais pas trop. Je pense que le buste est un poil trop grand dans le dos. La taille est également trop grande, mais je pense que cela serait réglé par un ajustement pour ma cambrure.
The fabric is a medium weight coton that was given to me by the lovely Alice from the blog Queen of darts (formerly Moonbeam). I won it at the giveaway she organized for her bloganniversary last year. Check out the beautiful dress she made with the same fabric.
The glass buttons come from my grand-mother stash.
The shirt is really easy to assemble, especially when you follow Jen's sew-along on her site. I really liked that the sleeves are sewn flat. For the yoke, I used the burrito method and love it, it's so neat. For the collar I followed Andrea's tutorial on her blog Four square walls.
I made view A of the pattern but with the straight cuffs. I think my measurements gave me as a size 10 for the bust and at least 12 for the waist and hips. As this pattern appears drafted with a lot of positive ease for a loose fit, I made a straight 10 and I was right.
As you can see the shoulders are slightly slouchy, but it's not overwhelming. I don't think that I modified the length of the pattern and oddly it doesn't appear way too long on my giant meter 55. The sleeves however are clearly too long by approximately 5 cm, and the cuffs are too big. Concerning the rest of the fit I'm not really sure. I think the bust is too large in the back. I also think the waist is too large, but a swayback adjustement could probably take care of that.
Au final, je ne suis pas sure que ça soit le patron de chemise idéale pour moi: je suis petite et enrobée et une chemise plus ajustée m'irait sans doute mieux. Mais disons que pour les jours où on a juste envie d'être à l'aise tout en étant présentable, elle est parfaite.
Je l'ai donc pas mal portée depuis le début de l'année. D'ailleurs, au fil des lavages le tissu s'est incroyablement adouci et amolli, ce qui la rend très agréable à porter. Par contre la couleur a un peu tendance à s'effacer au niveau des angles (poignets, col, ..).
Donc, je trouve que malgrès ses défauts c'est tout de même une réussite!
In the end, I'm not sure this is a perfect pattern for me: I'm small and curvy and a more fitted shirt would suit me better. However, it's a perfect shirt for those days when you want to be confortable and still look put together.
As a result, I wore it a lot since I made it. I should add that after several washes the fabric softened a lot, which makes the shirt really nice to wear. The color is also starting to fade in the angles like the cuffs and collar.
So, I still find that this shirt is a success.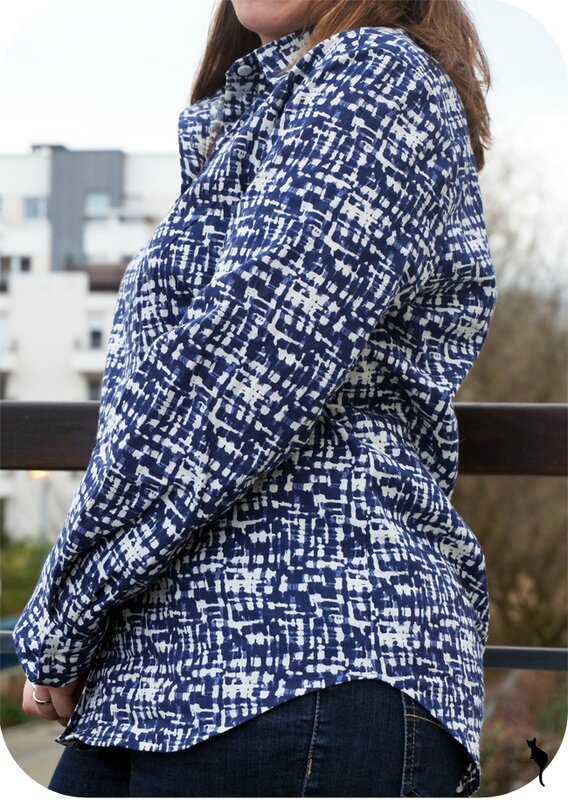 Patron: Chemise Archer de Grainline studio
Taille: 10
Tissu: Cotonnade donnée par Alice (Queen of darts)
Pattern: Archer shirt from Grainline studio
Size: 10
Fabric: medium weight coton given by Alice (Queen of Darts)
06 avril 2015
Voici mon dernier projet de 2014: mon Confortable de fête.
Festif and confortable ne sont généralement pas associés mais en y réfléchissant, pour les fêtes on passe quand même beaucoup de temps à manger. Activité qui selon moi demande des vêtements confortables, je n'aime pas me sentir serrée quand je mange mon foie gras!
Pour les fêtes j'ai donc fait le Confortable de mlm patrons. Il mérite bien son nom avec sa coupe simple et droite, il a un fort potentiel à être confortable. Pour corser un peu les choses j'ai choisi 2 matières difficiles à travailler: la georgette et la dentelle.
Ce modèle est donc un parfait plagiat, pardon hommage à Alice du blog le coussin du singe et ses confortables crêpe et dentelle ici et ici. Évidemment, ma version est nettement moins bien réussie, mais je l'ai tout de même portée pour les fêtes avec plaisir.
This is my last project from 2014: my festive Confortable.
I know festive and comfortable are not usually associated but you do spend a lot of time sitting at a table eating during the holidays. And I like to be comfy when I eat my foie gras!
So for Christmas I made the Confortable from mlm patrons. Its simple and straight design makes it quite comfortable. But to make stuff a little bit more difficult I chose 2 tricky fabric : georgette and lace.
This top is a perfect copy, or hommage to Alice from the blog Le coussin du singe and her beautiful versions of Le confortable in crepe and lace here and here. My version is not anywhere as nice as hers but it did wear it with pleasure for Christmas.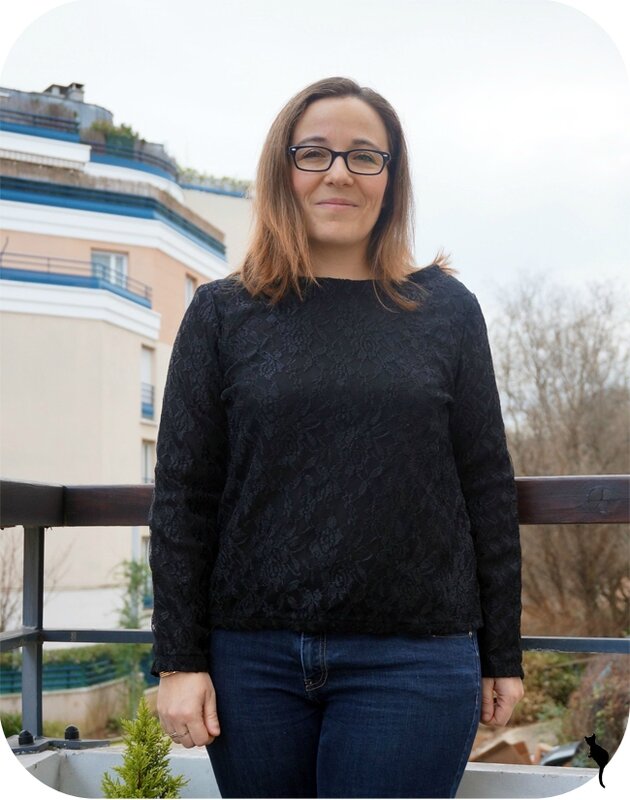 Après avoir fait une toile rapide j'ai fait les modifications suivantes:
raccourci les manches d'environ 10 cm
enlevé 1 cm sur la pliure du milieu devant (donc enlevé 2 cm sur le devant au final)
raccourci la longueur d'environ 5 cm
After a quick muslin I made the following modifications:
shorten the sleeves by approx 10 cm
removed 1 cm from the center front fold (so removed 2 cm overall from the front)
shorten the length by approx 5 cm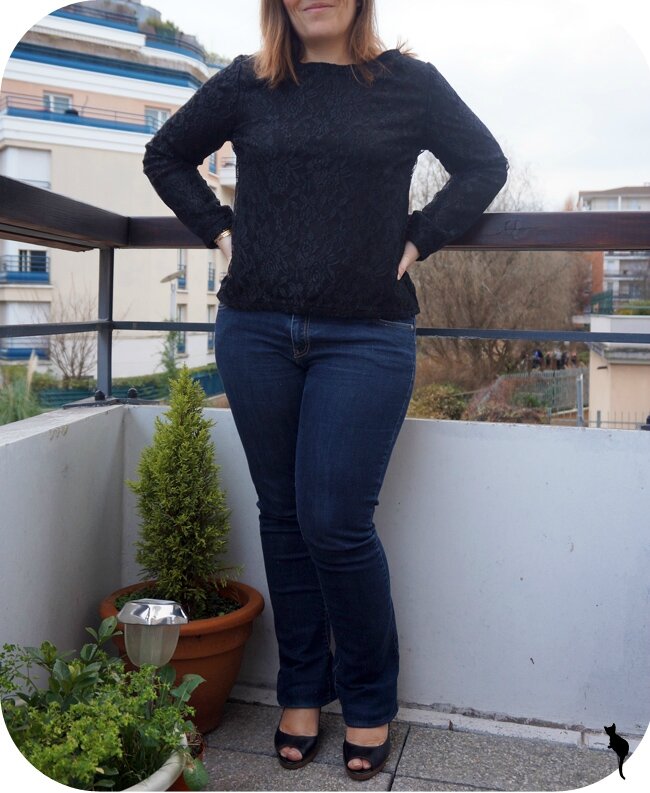 Pour manipuler mes 2 épaisseurs j'ai d'abord bâti la georgette et la dentelle ensemble puis je les ai traitées comme une seule épaisseur.
J'ai fait des coutures anglaises pour les côtés, les épaules et les manches et j'ai fini l'encolure et les ourlets des manches avec un biais en satin.
To handle the 2 fabrics I first basted them together and then handled them as a single layer.
I french seamed the sides, shoulders and sleeves et finished the neck and sleeve hem with a black satin binding.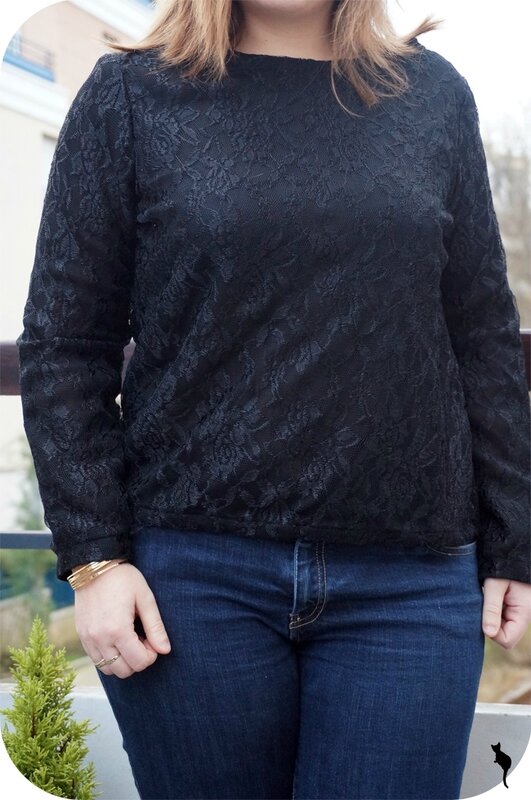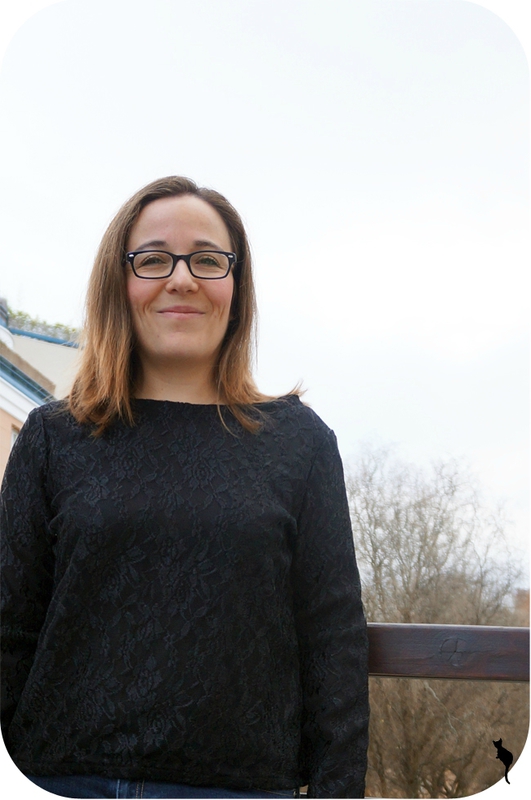 Patron: Le confortable de mlm patrons (4€ en pdf)
Taille: Buste M, Taille L, Hanches XL
Tissu: Georgette viscose et dentelle polyester Buttinettte
Pattern: Le confortable from mlm patrons (4€ in pdf)
Size: Bust M, Waist L, Hips XL
Fabric: Viscose georgette and polyester lace Buttinette
18 janvier 2015
Pour commencer cette année on va finir d'épurer les projets 2014.
Pour aujourd'hui ça sera donc ma deuxième version du Kirsten Kimono tee de Maria Denmark (gratuit quand vous vous inscrivez à la newsletter).
We'll start the new year with some projects from 2014 that still need to be blogged.
So today I'll show you my second version of the Kirsten Kimono tee from Maria Denmark (free when you register for her newsletter).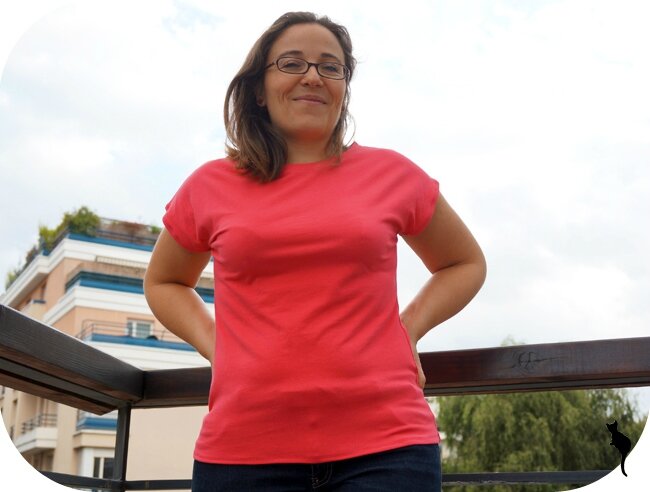 Je n'ai pas grand chose à ajouter par rapport à ma première version. J'ai simplement utilisé une bande d'encolure un peu plus longue. Mais j'ai galéré exactement de la même façon pour l'installer puisque j'avais essayé d'innover pour la pose (comme ça remonte à octobre je ne me souviens plus bien de ce que j'avais tenté), et que j'ai fini par découdre l'encolure au moins une fois. Au final l'encolure est posée exactement comme la dernière fois.
I don't have much to add to what I said about my first version. I just used a longer neckband to remove that little bit of pulling we saw on the first version. However sewing the neckband releaved to be as much of a problem as the first time as I had to unpick it at least once (as I did that back in october I don't really remember what kind of innovation I thought would be cool and turned out to suck). In the end I installed the neckband exactely like last time.
Pour l'ourlet des manches et du bas, la première fois j'avais fait un simple rentré et piqué avec un point zig-zag. Comme on peut voir le bord à cru du jersey quand le bord roule, pour cette version j'ai fait un double rentré et piqué avec le même point zig-zag. C'est plus net mais un peu plus rigide.
Last time I hemmed the sleeves and bottom with a single fold stitched in place with a large zig-zag. As the raw edge can become exposed when the border rolls, for this version I chose to double-fold and stitch in place with the same large zig-zag. It's neater but also stiffer.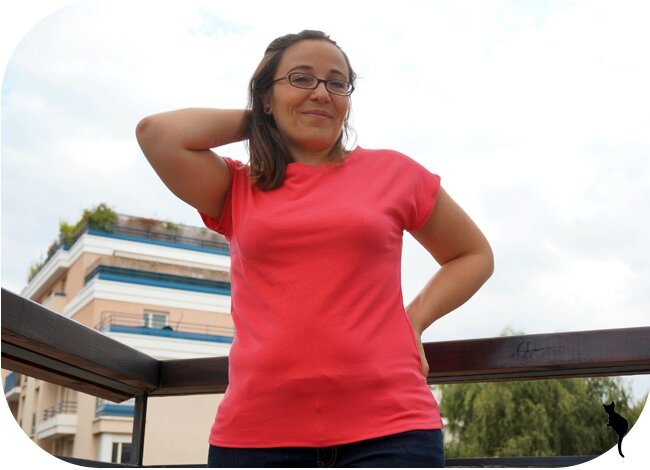 J'ai même utilisé le même tissu que la dernière fois (de chez Mondial Tissu) dans une autre couleur. Je ne sais pas trop comment sort la couleur sur votre écran mais je crois qu'en réalité elle est moins saturée.
I even used the same fabric than last time (from Mondial Tissu) in a different colorway. I don't know how the color appears on your screen but I think it's less saturated in real life.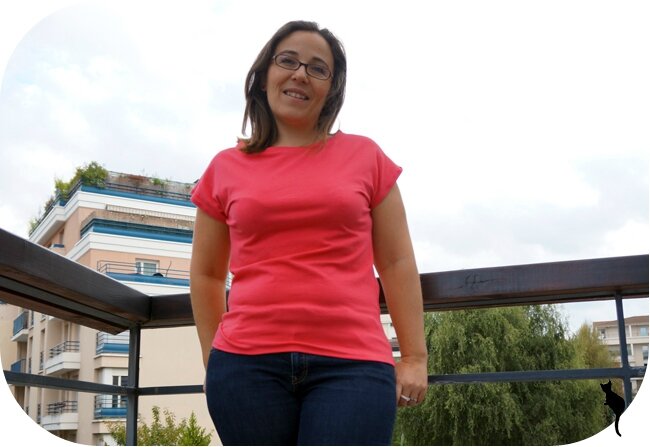 Ca fait donc un tee-shirt basique et coloré, facile à porter. Je l'ai réalisé tardivement dans la saison et donc peu porté mais reviendra en rotation dès le retour du printemps.
This adds a basic tee-shirt to my wardrobe. I find it nice and easy to wear. I made it late in the season and as a result it wasn't much worn, but it will come back in rotation next spring.
Patron: Kirsten Kimono tee de Maria Denmark
Taille: M sans marges de couture
Tissu: Jersey de coton rose Mondial Tissu
Pattern: Kirsten Kimono tee from Maria Denmark
Size: M without seam allowances
Fabric: Coton jersey in pink from Mondial Tissu
31 décembre 2014
Je suis faible et influençable. C'est en voyant les très belles versions de la blouse Carme de Pauline Alice réalisées par Sandra et Maggot que j'ai eu envie d'en faire une aussi. C'est typiquement le genre de pièce qu'il manque à mon dressing. Comme quand il est question de couture je prends mon temps, j'ai acheté ce patron seulement à la rentrée.
Et puis fin septembre Mlle Lisou a lancé le défi Pauline Alice sur son blog. C'était le parfait moment pour m'y mettre. J'avais déjà le tissu parfait: un coton plumetis gris perle acheté sur le site Little fabrics. Il y en a encore en stock si ça vous intéresse. Il est superbe, très doux mais très fin et légèrement transparent.
I am weak and easily influenced. When I saw the beautiful renditions of the Carme Blouse from Pauline Alice by Sandra and Maggot (among others), I wanted to have mine too. This blouse is typically the kind of piece missing in my wardrobe. Because I don't rush things when it's about sewing (subtle understatement there) I bought this pattern coming back from (summer) holidays.
And toward the end of septembre Mlle Lisou launched the Pauline Alice challenge on her blog, that was the perfect incentive for me to start my Carme blouse. I already had the perfect fabric for it: a swiss dot cotton that I had just ordered from Little fabrics (it's still in stock if you're interested). It's beautiful, very soft, but very thin and slightly sheer.

Pour la réalisation j'ai suivi le sew-along sur le blog de Pauline Alice. Il est très bien fait et rend la blouse ultra facile à faire. Il suffit en fait de bien suivre chaque étape (je dois avouer que j'ai regardé chaque vidéo une bonne quinzaine de fois), et on a bientôt une blouse toute faite sans s'en rendre compte.
Je n'avais pas vraiment envie de faire une toile donc j'ai bien pris mon temps pour choisir la taille à couper. Selon mes mensurations du buste je tombe dans la taille 40. Mes mensurations taille et hanche doivent me placer dans la taille au dessus. Mais la blouse Carme a une coupe un peu loose et en comparant les dimensions du vêtement fini indiquées sur le patron (ce qui est très rare sur les patrons européens mais très appréciable) avec des vêtements dans mon armoire j'ai décidé de couper un 40 partout. Au final je crois que c'est même un peu grand, j'aurais pu rogner un peu la largeur à la taille et aux hanches.
Le seul drame qui s'est passé pendant la construction vient du fait que je travaille dans un tout petit espace. Alors que je découpais les surplus de couture de l'empiècement que je venais d'ajouter, soudainement je sens une épaisseur un peu plus importante entre les lames de mes ciseaux. Et là je me rend compte que j'ai taillé dans ma pièce devant en même temps (au niveau de la pince poitrine). Après avoir poussé un grand cri de désespoir (je n'ai plus assez de tissu pour un recouper un autre), j'ai pu raccommoder le tout solidement et discrètement. Comme ça se situe pratiquement sous le bras ça ne se voit absolument pas.
I didn't read the instructions; instead I followed the sew-along on Pauline Alice's blog. It's really well made, each step is well described in video. If you really follow each step of the video (I must admit I watched each video at least 15 times to be sure to have everything right), in no time at all you have assembled a very nice blouse!

I didn't really want to do a muslin so I took my time to choose the correct size to cut. My bust measurement gave a size 40. My waist and hips measurements are one size up. However the Carme blouse has a loose fit; and by comparing the finished garment size given on the enveloppe (which is a very rare thing on european patterns but a really nice one) with the dimensions of a garment in my closet; I decided to cut a straight size 40. In the end, I think it's a smidgen too big, I could have shaved the waist and hips a little bit.
The only drama that happened during construction was due to the fact that I work in a small space. As I was reducing the seam allowances of the yoke I just installed, I suddenly felt a bulk in my scisors. I unfold my work to discover I had cut into my front piece, near the bust dart. After letting out a long dispair cry (I don't have enough fabric left to cut another front piece), I managed to mend everything securely and discretely. Because it's almost under my arm, you don't see anything when I'm wearing it.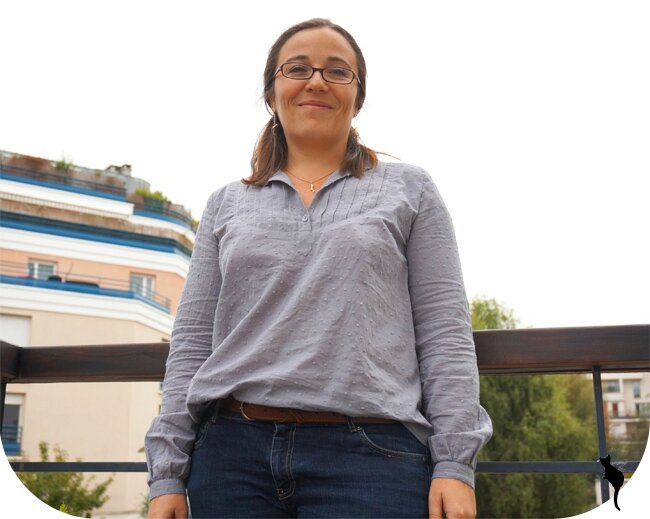 Cette blouse a de très jolis détails: l'empiècement avec les plis plats, le petit col, les manches et la petite patte de boutonnage pour les remonter et la forme liquette. Pour la prochaine version (parce que, ce n'est sans doute pas une surprise, il y en aura d'autres), je changerai la forme de l'ourlet pour celui de la Datura que j'aime mieux.
Je ne sais plus combien de boutons j'aurais du mettre mais je n'avais que 5 de ces jolis boutons vintage trouvés dans la boite à boutons de ma grand-mère. Comme de toute façon je n'ai pas l'intention de porter cette blouse boutonnée jusqu'au cou, je n'ai mis qu'un bouton sur la patte de boutonnage devant, c'est suffisant.
I love the details of this blouse: the pleated yoke, the small collar, the sleeves, the placket to attach the sleeves when they're rolled up, and of course the rounded hem. Although on my next version (because, spoiler, there will be others), I'll swap the hem for that of the Datura blouse which I prefer.
I don't remember how many buttons the instructions call for, but I had only 5 of these cute vintage buttons found in my grand-mother button box. As I don't intend to button the front anyway, I put only one button on the front button placket, it's enough.
A part la forme de l'ourlet qui est un choix personnel, les seuls problèmes que j'ai sont les pinces poitrine qui sont un chouia trop hautes (quand on regarde les photos de Carme sur internet, c'est un problème apparent dans pratiquement 90% des cas), les manches qui sont un chouia trop courtes (bien que ce ne soit pas évident sur les photos), et les poignets qui sont un poil trop serrés. Je pourrai facilement modifier tout ça pour mes prochaines versions.
Mon tissu est très fin et le résultat aurait été beauoup plus net si j'avais entoilé le col. Comme ce n'est pas mentionné dans le sew-along, je n'y ai absolument pas pensé.
Except for the hemline shape which is a personnal choice the only problems I have with the pattern are the bust darts which are a smidgen too high (when you look at the pictures of all the finished Carme blouse on the internet I think this is a problem on 90% of them, of which I was aware of before sewing mine), the sleeves may be a tad too short, and the wrists are a tiny bit too tight. All these will be easy to fix on my next versions (the pattern contains the shorten/lenghten lines, which is very convenient and removes some guesswork from the operation)
My fabric is very thin and the collar would look better if I had interfaced it. Because it was not mentioned in the sew-along I didn't think about it for one second.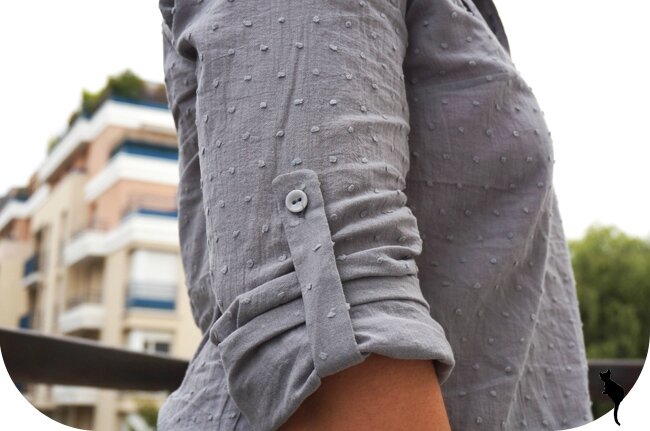 Au final j'adore ma blouse et elle a déjà été portée et reportée cet automne (même si je dois vous avouer que pour la finir dans les temps du challenge de Melle Lisou j'ai massacré l'ourlet et je n'ai pas eu le courage de le reprendre. Et oui, c'est pour ça qu'elle est rentrée dans mon pantalon sur toutes les photos). Elle est donc bien incorporée dans ma garde robe. Je prévois déjà d'en faire beaucoup d'autres.
In the end, I love this blouse which had already been worn multiple times this fall (even though, for full disclosure I have to admit that in order to finish in time for Melle Lisou's challenge I botched the hem and haven't had the courage to redo it. Yes, that's why I have to wear it tucked in). It's now an integral part of my wardrobe. Since I finished it I've just been planning my future versions!
Patron: Blouse Carme de Pauline Alice
Taille: 40
Tissu: Coton Plumetis perle dehttp://www.littlefabrics.com/
Pattern: Carme Blouse by Pauline Alice
Size: 40
Fabric: Swiss dot cotton from Little fabrics
Sur ce, je vous souhaite de belles fêtes de fin d'année et à l'année prochaine!
On this note I wish you happy holidays, and see you next year!
02 novembre 2014
Il est temps que je vous montre mon dernier top de l'été avant qu'il neige!
J'adore mon Kirsten kimono tee (patron Maria Denmark) et j'avais très envie de me faire un top avec des manches kimono mais pas en jersey. Comme les tops avec cette forme ont fleuri dans les enseignes de prêt à porter cet été je me suis dit que je trouverais un patron sans problème. En général on retrouve bien les mêmes tendances dans le prêt à porter et chez les créateurs de patrons. Je cherchais un patron de top à manches kimono tout simple, sans détail à l'encolure ou nulle part, avec des petites manches et des pinces poitrines pour ne pas ressembler à un sac. Et bien ce fut beaucoup plus compliqué que ce que j'avais prévu! J'ai tous les magazines Burda depuis mars 2012 et la plupart des magazines Tendances couture, et bien je n'ai trouvé qu'un seul patron de top à manches kimono pour des etoffes tissés! Le seul patron trouvé dans ma collection est donc le Simplicity 1920 dans le magazine tendances couture # 10. Je vous encourage à aller voir la pochette simplicity, vous allez voir ça pique les yeux.
I should really show you my last top of the summer before we're too far into the fall / winter season.
I really like my Kirsten Kimono tee (a Maria Denmark sewing pattern) and I really wanted to sew a top with kimono sleeves in a woven fabric. I wasn't sure I could modify the Kirsten kimono tee to work with a woven, so I hunted for a pattern specifically designed for woven fabrics. I was looking for a simple kimono sleeve top without fuss, short sleeves and with bust darts to avoid the dreaded potato sack look. Kimono sleeve tops were quite on trend in RTW this summer and I thought it would be easy to find the desired pattern in my extensive Burda and Simpllicity collection. But I guess that would happen in a world where unicorns live! Usually you find the same trends in RTW and pattern designers. Well it seems pattern designers did not see the kimono sleeve thing coming. Indeed, I found a single pattern fitting the description in my collection: Simplicity 1920. Please go see Simplicity enveloppe and come back to tell me if your eyes bled (mine did).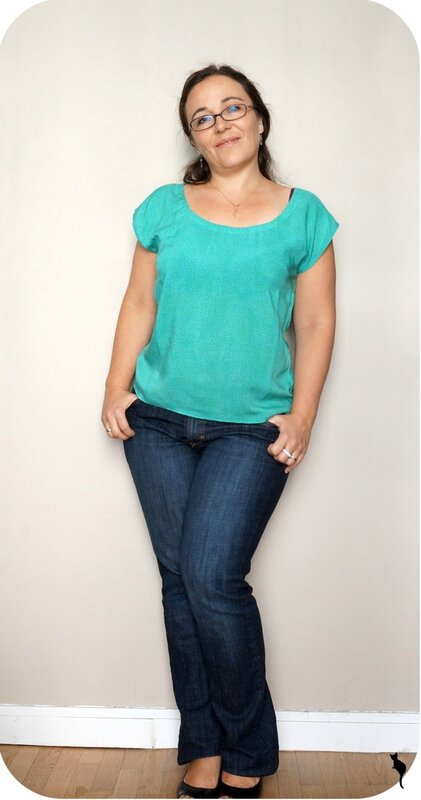 Donc je n'étais pas vraiment convaincue par la photo ni par le dessin technique (en particulier les manches en continuité du corps ne me plaisent pas), mais à défaut d'autre solution j'ai quand même décidé d'essayer.
J'ai donc décidé d'utiliser une viscose super légère et super douce de chez Mondial Tissu, et roule ma poule.
I wasn't thrilled by the picture or the technical drawing of the model (in particular the sleeves aligned with the body), but decided to go on anyway as I had no other easy solution.
I had a super light and super soft rayon from Mondial Tissu in my stash begging to be used, so I obliged.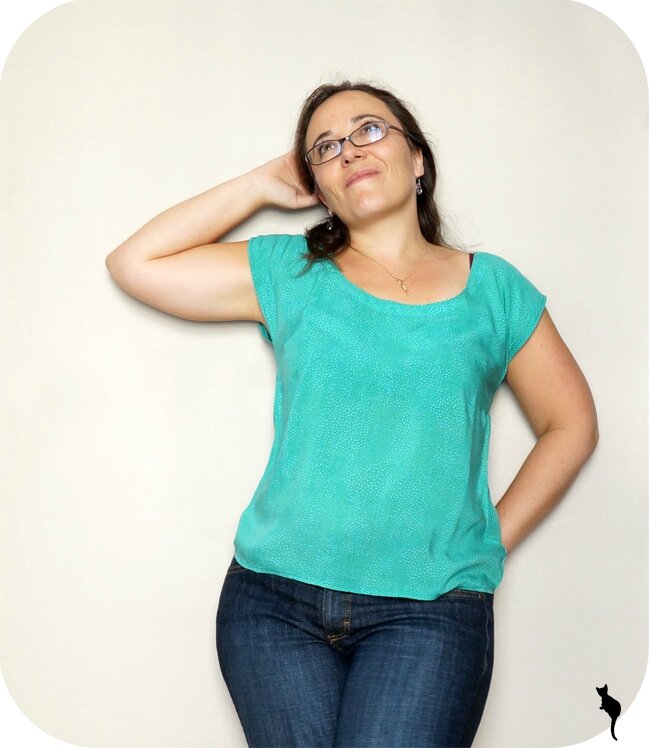 J'ai fait des coutures anglaises pour les épaules mais je n'ai pas pu en faire pour les côtés puisque les "manches" sont en continuité du corps. Pour les emmanchures et les surplus de couture des côtés j'ai donc fait un double rentré. Idem pour l'ourlet.
I french-seamed the shoulders, but I couldn't do the same for the side seam as the arm openings are aligned with the side seam. So I just turned under twice both the sleeve hem and side seam allowances. I did the same for the bottom hem.
Je ne me souviens plus de la technique préconisée par le patron pour l'encolure mais je sais que je ne l'ai pas suivie. Je ne voulais pas faire de parementure parce que l'idée d'utiliser la surjeteuse pour finir les bords de la viscose me colait des migraines rien que d'y penser. Je ne voulais pas non plus faire de biais dans la viscose pour la même raison (la manipuler dans le droit fil est déjà assez compliqué). J'ai donc décidé d'utiliser (encore) le biais en voile de coton que j'avais fait pour mon sorbetto. Je l'ai rabattu et ensuite attaché à la main à point caché.
I don't remember which technique was included in the pattern instructions for the neckline but I know I didn't follow it. I didn't want to do a facing because just the idea of serging the edge of this fine rayon gave me headaches. I didn't want to do a self fabric biais for the same reason (it was difficult enough to handle it on the straight grain). In the end I chose to use (again) the white coton voile biais I made for my sorbetto. I turned it under and stitched it by hand.
Le résultat est presque OK et ne se voit pas trop.
Mais le problème apparait après chaque lavage. En effet, la viscose et le voile de coton ne réagissent pas de la même façon au lavage: le biais de coton ne bouge pas ou presque, par contre la viscose se contracte. Et pour que l'encolure reprenne une apparence montrable je dois la repasser à mort.
The result is almost OK and doesn't show too much.
However a problem appears after each wash as the coton voile and the viscose don't behave the same after washing: the coton voile biais almost doesn't move, while the viscose contracts. Which means that I have to press the hell out of that top and especially the neckline for it to regain an acceptable appearance.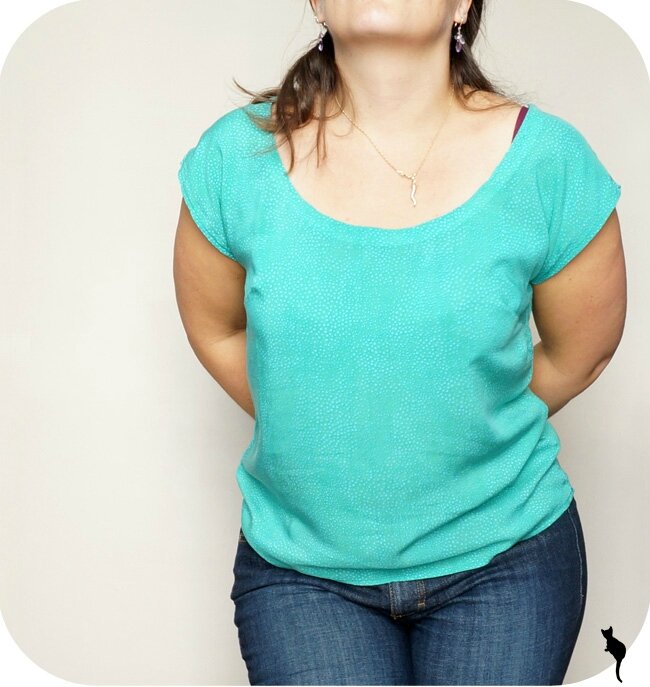 Au final, malgré ses imperfections ce top va dans les réussites et il a déjà été porté plusieurs fois (là, je pense qu'il est rangé jusqu'à l'année prochaine). La viscose est très légère est très agréable à porter quand il fait chaud. Il remplit également parfaitement le cahier des charges d'un top casual mais pas trop pour tous les jours au boulot.
In the end, in spite of its flaws, I think this top is a win and I already wore it several times (although I now think it won't see daylight until next year). The viscose is very light and very nice to wear especially when it's hot. It perfectly fills the requirement of an everyday top for work.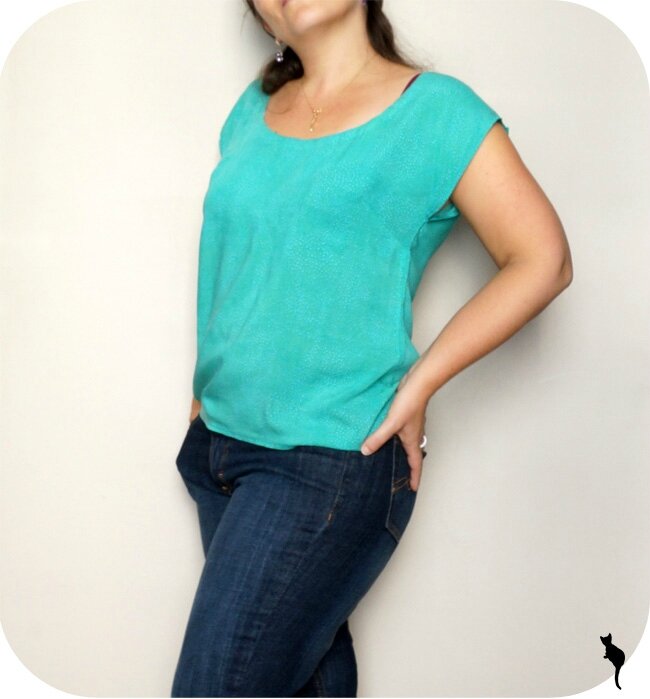 Patron: Top Simplicity 1920 (Modèle 32 Tendances couture #10)
Taille: 36/38
Tissu: Viscose Mondial Tissu
Boucles d'oreilles: Marc Orian
Pattern: Top Simplicity 1920
Size: 36/38
Fabric: Viscose Mondial Tissu
Earrings: Marc Orian
19 octobre 2014
Sur ma lancée j'ai décidé de refaire encore un Sorbetto (on ne change pas une équipe qui gagne hein?). Pour celui-ci j'ai eu une vision (non, pas de la vierge): je voulais faire du color-blocking. L'autre inspiration vient d'une frustration vieille de 2 ans: un top raté pour lequel j'avais choisi 2 coupons de microfibre violet et orange mais que je n'ai jamais pu porter. Pourtant j'avais eu un coup de coeur pour ces tissus et leur association et j'étais vraiment vraiment frustrée de ne pas avoir pu réussir ce projet. Je cherchais donc un projet pour utiliser les chutes de ces coupons et enfin associer le violet et le orange. J'aurais préféré que la partie violette soit plus grande et avais envisagé d'inverser les couleurs, mais d'une part la chute de violet était un peu juste pour ça et d'autre part j'avais peur de mettre l'orange à côté de mon visage.
After my last Sorbetto, I was on a roll and decided to make yet another one. Maybe I'm addicted but I don't care. For this one I had a vision: I wanted to do some color-blocking. I have collected inspiration on pinterest for ages and it was time to act on it. The second inspiration came from a 2-year old frustration: a failed top for which I associated purple and orange and that I never wore. I was immensely disappointed of failing this project as I loved these fabrics and really really wanted to use them together. I was looking for a project to re-use the left-overs from this project. I wished the purple part (which is my favorite color from the two) was larger, and thought about inverting the colors, but that was not really possible as the purple piece was probably too small for that, and I was a little worried of placing the orange next to my face.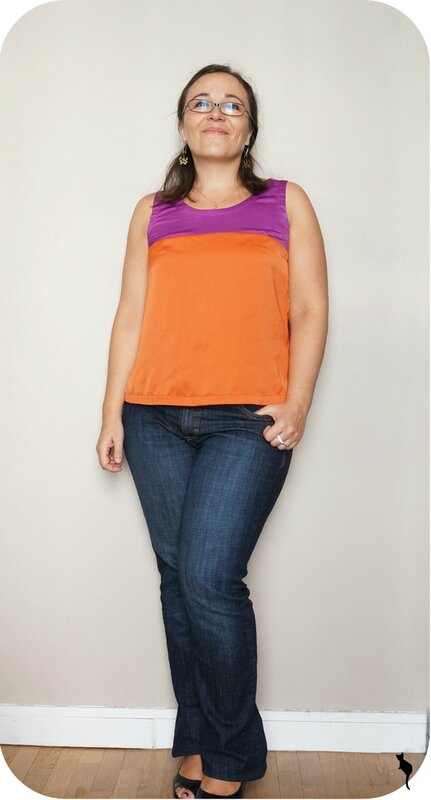 Pour modifier le patron du sorbetto, rien de plus simple, j'ai coupé le devant un peu au dessus des pinces et reporté la position sur la partie arrière à partir de la couture côté. Je n'ai pas oublié de rajouter les marges de couture sur les nouvelles pièces de patron.
It was very simple to modify the Sorbetto pattern, I just slashed the front piece a little bit above the bust darts, and reported that on the back piece from the side seam. I didn't forget to add the seam allowances on the new pattern pieces.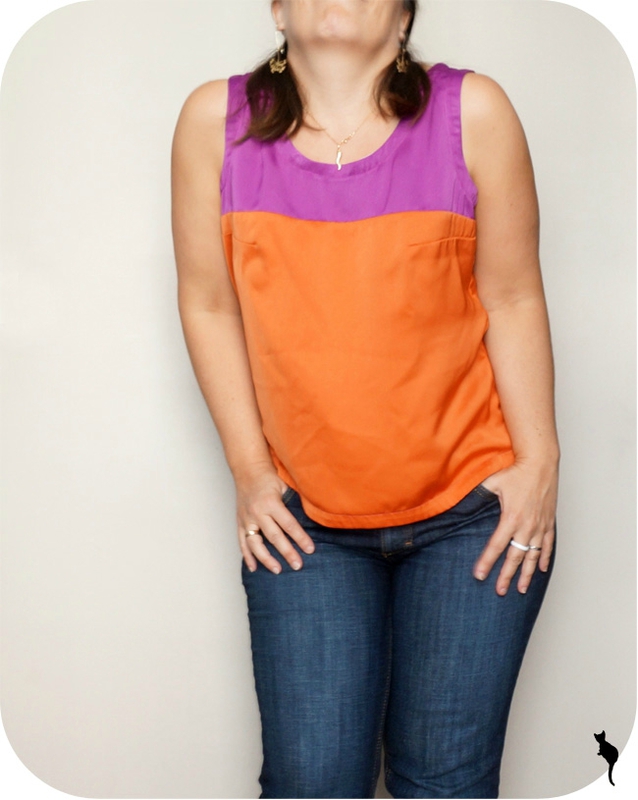 Pour l'ourlet j'ai utilisé un biais satin fuschia / violet dont la teinte matche celle de l'empiècement haut. Par contre j'avais peur que ce biais soit trop rigide pour l'encolure et les emmanchures (c'est souvent un problème avec les biais que l'on achète), alors pour ça j'ai à nouveau utilisé le biais en voile de coton blanc fait pour mon précédent Sorbetto.
For the hem I used a store-bought fuschia / purple satin biais almost exactely the same color as the yoke piece. However this biais is too stiff for the armholes and neckline (I think it wouldn't conform to the curves nicely), so I used again the white coton voile biais that I made for my previous Sorbetto (yes I made an insane length of it, told you it took me forever to make, and for good reason!).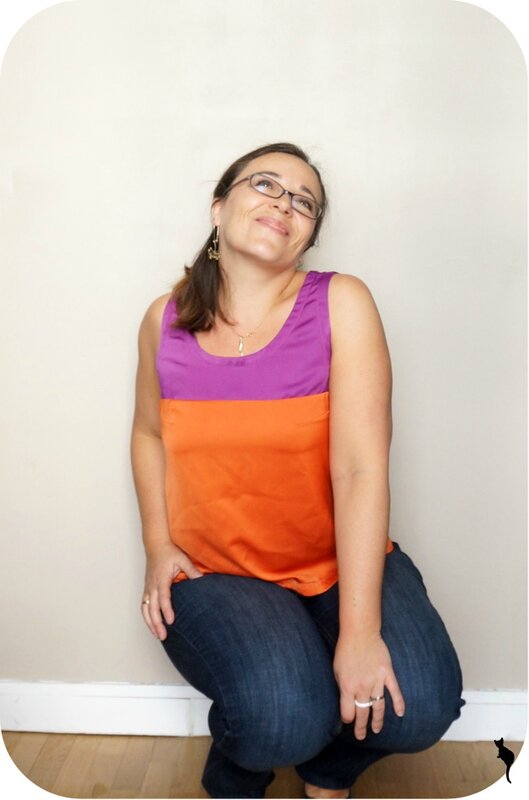 Au final, ce top marche plutôt pas mal même si ce n'est pas l'amour fou. Malgré tout le soin apporté à la pose du biais sur l'encolure, celle-ci n'est pas parfaite. Mais c'est plus moi que ça dérange, en vrai c'est moins flagrant que sur les photos où je ne vois que les défauts.
Je l'ai tout de même porté plusieurs fois avec plaisir. C'est un top à la fois décontracté (c'est un débardeur) et un peu habillé (c'est du tissu kibrille), parfait quand il aut avoir l'air un peu présentable même quand il fait chaud!
In the end, this top works even though I'm not madely in love with it. In spite of all the care I took sewing the biais on the neckline, it's far from perfect. Although I have to say that in real life the flaws are much less noticable than on the pictures (where I can't see anything but the flaws)
Still, I wore it several times and was very happy about it. It's casual (it's a tank top) and a little bit dressy (it's shiny) at the same time.So it's perfect when it's hot and you need to look put together but not formal.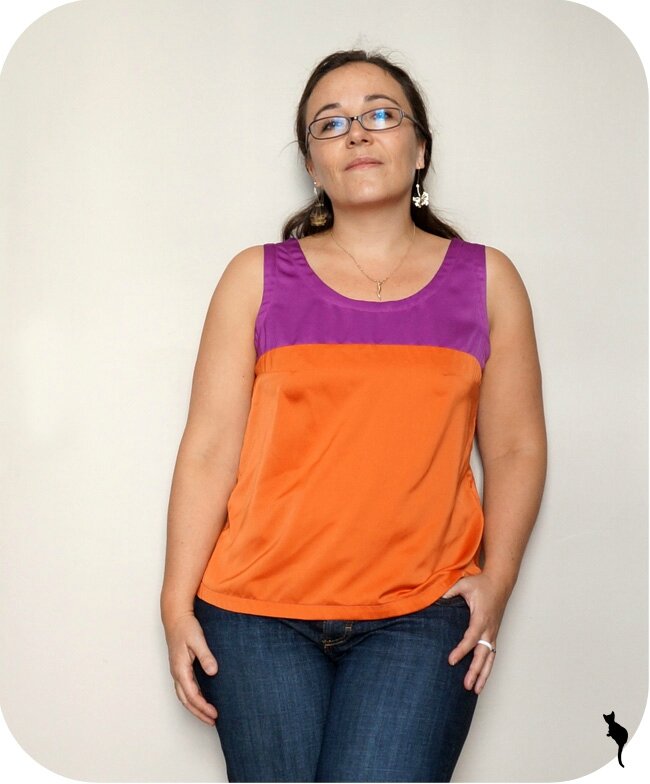 Patron: Top Sorbetto de Colette patterns
Taile: 6 - 8 - 10
Tissu: Marché Saint Pierre
Boucles d'oreille: Schlomit Ofir
Pattern: Sorbetto top from Colette patterns
Size: 6 - 8 - 10
Fabric: Marché Saint Pierre
Earrings: Schlomit Ofir
04 octobre 2014
L'an dernier quand j'ai fait mon Sorbetto ça a été le coup de foudre. Après lui je n'avais qu'une envie: en faire plein d'autres. Comme je l'avais réalisé assez tard dans l'été, j'ai du patienter tout l'automne et tout l'hiver avant d'en faire un nouveau.
Last year I fell in love with the Sorbetto from Colette patterns. After my first version I just wanted to make many more. But as I made it quite late in the summer I had to wait for nice weather to come around to make it again.
Comme j'ai trouvé ma première version un peu juste en longueur, j'ai modifié le bas avec le bas de la Datura de Deer & Doe. On a maintenant environ 10 cm en plus et la jolie forme arrondie de la Datura.
As my first rendition of this pattern was quite short, I modified the hem with the lower part of the Datura from Deer & Doe. It adds approximately 10 cm in length and gives a lovely rounded hemline.
Le tissu est un voile de coton de chez Mondial Tissu. Avec lui aussi ça a été le coup de foudre et j'ai su dès que je l'ai vu qu'il deviendrait un sorbetto. Il n'a pas vraiment de drapé mais il est très léger et très agréable à porter.
The fabric is a coton voile from Mondial Tissu. It was love at first sight when I saw it and I immediately knew it would become a Sorbetto. It doesn't really drape but it's very light and nice to wear.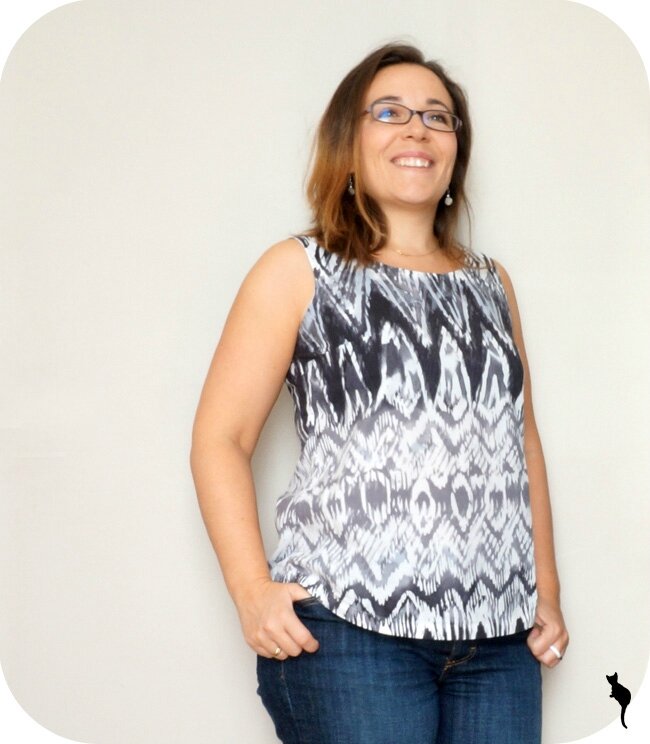 J'ai fini l'encolure, les emmanchures et l'ourlet avec un biais maison réalisé dans un voile de coton blanc (qui m'a d'ailleurs pris la moitié de l'éternité à faire). Pour l'encolure et les emmanchures j'ai pris mon temps pour que ça soit impéccable et j'ai fixé le biais à la main au point caché. Pour l'ourlet, il est piqué à la machine mais le motif dissimule bien la couture.
I finished the neckline, armholes and hemline with home-made coton voile bias (which took me forever to make). I took my time and hand-stitched it down for the neckline and armholes. The results looks really nice and I'm really happy about that. I folded and machine-stitched it for the hemline, and it's OK it blends in the busy pattern of the fabric.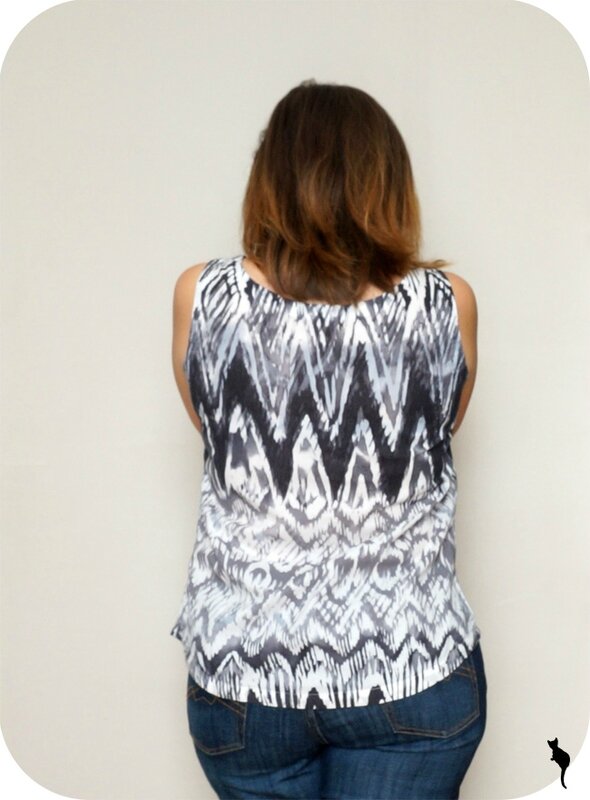 J'adore cette nouvelle version du Sorbetto que j'ai réalisé au début de cet été et porté sans arrêt depuis. Je crois que je l'ai porté environ une fois par semaine les 3 derniers mois. Mon premier Sorbetto a aussi été en rotation constante cet été.
Donc comme dirait Clo, pour moi, le Sorbetto est un patron valeur sûre.
I love this new version of the Sorbetto. I made it early this summer (I know I'm very late posting about it) and I think I wore it once a week for the last three months. So, for me, it's a huge win. My first Sorbetto was also in constant rotation this summer.
So I can safely say that it's a TNT pattern for me.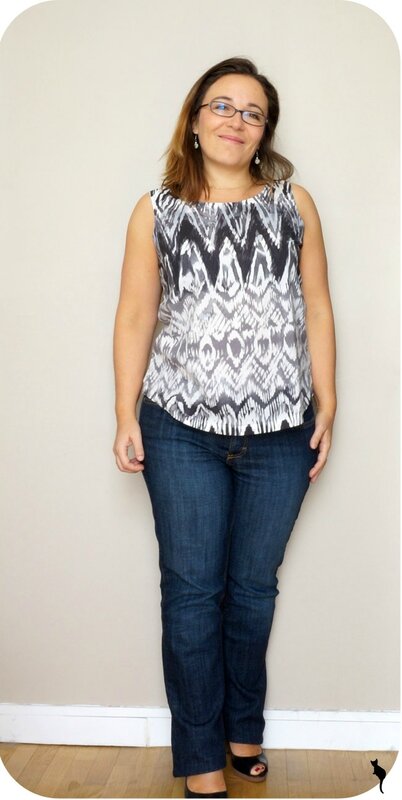 Patron: Top Sorbetto de Colette Patterns
Taille: 6 - 8 - 10
Tissu: Mondial Tissu
Boucles d'oreille: Home-made
Pattern: Sorbetto top from Colette patterns
Size: 6 - 8 - 10
Fabric: Mondial Tissu
Earrings: Home-made
27 septembre 2014
Et oui, encore une Chardon de Deer & Doe.
Après ma toile, j'avais prévu de faire ma "vraie" version dans un joli seersucker de mon stock. J'y ai pensé longtemps et je la voyais vraiment. Et puis au moment de la réaliser, je ne sais pas ce qui m'a pris, au lieu de sortir mon seersucker blanc et corail, j'ai sorti ce coupon de coton wax du Marché Saint Pierre.
Yes, it's another Chardon skirt from Deer & Doe.
After my muslin I planned to make my "real" version in a nice seersucker from my stash. I've thought about it for a while and knew it would be nice. And when the time to cut the skirt came, I don't know what happened. Instead of pulling my white and coral seersucker, I pulled that coton wax from Marché Saint Pierre from my stash.
C'est la première fois que j'utilisais du wax. Immédiatement après l'avoir acheté je l'avais lavé seul à l'eau froide et j'avais bien fait car le rose a dégorgé pendant plusieurs eaux de rinçage. Je ne l'avais pas mis dans la machine à laver comme tous mes autres tissus car je voulais conserver pendant la couture la rigidité du wax qui fait que c'est hyper facile à coudre.
It was the first time I used wax coton. When I got it, instead of throwing it in the washing machine like usual, in order to conserve the crispyness (I don't know if it's a real word, but you get, right?) of wax, I washed it by hand, alone, in cold water. It was the right decision as the pink dye bled out a lot.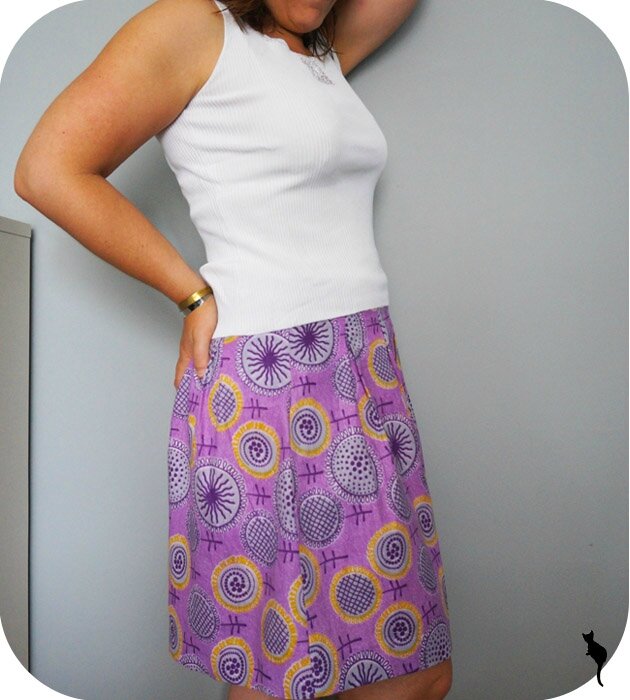 C'était donc très agréable de coudre ce tissu qui se tient vraiment. Et après le deuxième passage à la machine à laver, le traitement à la cire est parti et le tissu est devenu d'une douceur incroyable. Je n'aurais jamais pensé qu'il puisse changer à ce point. Il est encore un peu rigide sur les photos, mais son aspect à changé depuis.
So it was very nice to sew with this very crisp fabric. And after its second turn in the washing machine all the wax treatment was gone and the fabric became so very soft! A little bit like Dr Jekyl and M. Hide of fabric. I never thought it could change so much! It's still a little crisp on the pictures but the skirt now looks quite different with the softer fabric.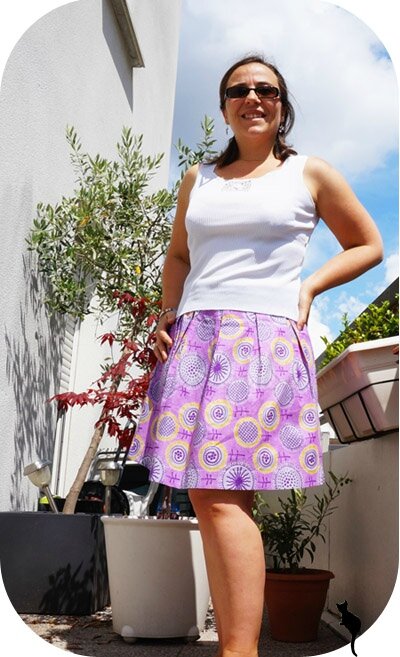 Je n'ai rien à ajouter sur la jupe en elle même par rapport à la dernière fois (voir ici ma première chardon), j'aime toujours énormément ce modèle.
I don't have much to say about the skirt in itself as it's the second time (see my first chardon here), and I still like it a lot.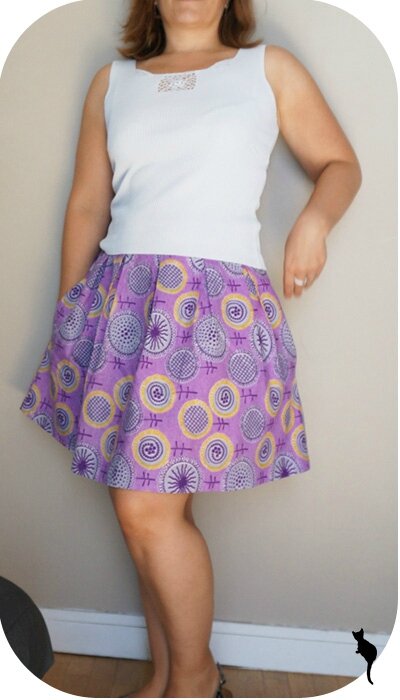 Par contre j'avais prévu une chardon en seersucker que je pourrais porter partout et celle-ci est un peu plus difficile à assumer avec son motif très voyant. Au final même si je l'ai portée pas mal cet été, c'était uniquement à la plage ou en vacances. Elle n'est au final pas adaptée du tout pour porter au travail.
Il va donc falloir que je m'en fasse encore une autre!
However I had planned a skirt that I could wear everywhere, including to work, and the very loud print of this one doen't work for me. I still wore it a lot this summer, but exclusively to the beach or on holidays.
It seems I will have to make another one!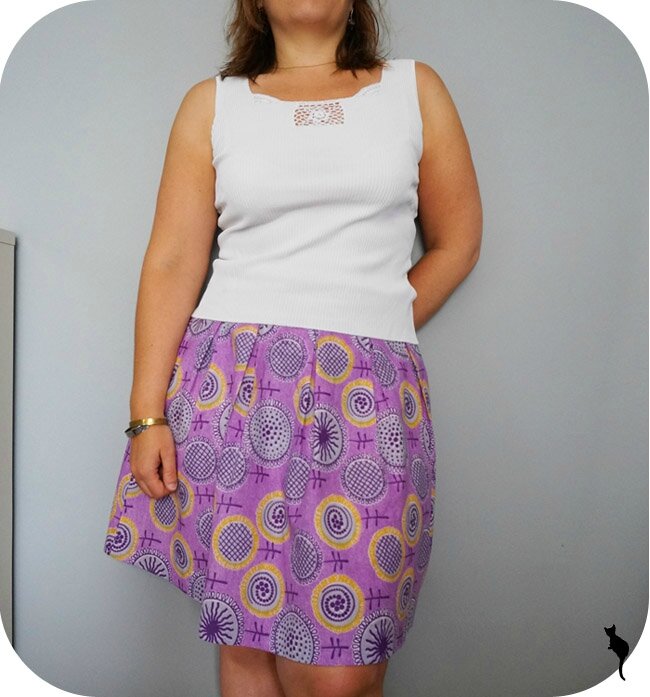 Patron: Jupe Chardon de Deer & Doe
Taille: 42
Tissu: coton wax, le marché de Saint Pierre
Bracelets: L'atelier 13
Pattern: Chardon skirt from Deer & Doe
Size: 42
Fabric: Wax coton from Le marché de Saint Pierre
Bracelets: L'atelier 13
09 septembre 2014
Encore une fois vous aviez pu deviner cette jupe dans mon dernier post. C'est la jupe Chardon de Deer & Doe.
Once again you had a sneak peek of this skirt in my previous post. This is the Chardon skirt from Deer & Doe.
Cette version est en fait ma toile, réalisée dans un coton assez épais et rigide de chez Mondial Tissu, en taille 42. Comme je suis toute petite (1m52), j'ai pris seulement le haut de la version bicolore, et c'est encore très long, mon ourlet est géant. Sinon je n'ai rien changé. Je n'ai pas mis les passants puisque la taille est bien ajustée et je la porterai toujours avec mon tee-shirt par dessus, pas besoin de ceinture.
This is actually my muslin for this skirt made in a quite thick and sturdy cotton from Mondial Tissu, in size 42. As I'm really short (5'0), I just made the upper part of the bicolor version, and it's still a little too long, I made a big hem. Otherwise, I didn't change a thing. I didn't sew the belt loops as I won't need a belt, the waist is well adjusted and I'll always wear it with my shirt over (I'm not really a tucked-in kind of gal).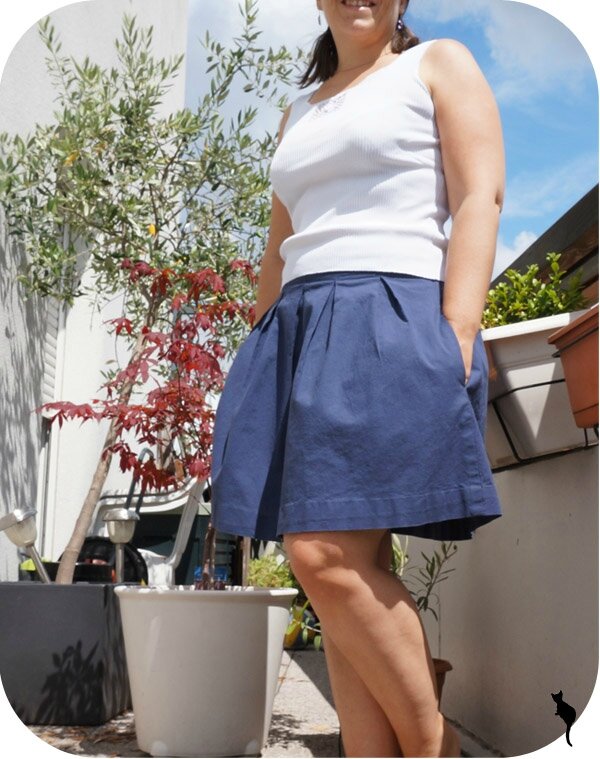 A part ça, je n'ai rien à ajouter qui n'a pas déjà été dit mille fois sur les patrons Deer & Doe, le montage s'est passé nickel et j'adore le résultat.
I really don't have much to say about this pattern that wasn't said a million time before, sewing went really smoothly and I really like the result.
Je ne vais pas vous ennuyer plus longtemps avec des tonnes de blabla, je vais juste mettre les photos. D'ailleurs je m'excuse si les photos ne sont pas super nettes mais ça m'apprendra à nettoyer le filtre de l'appareil photo avant de prendre des photos!
I won't bore you any longer with useless blabing, I'll just put some more pictures. By the way I'm sorry if my pictures aren't really sharp, I guess now I know I should clean my camera filter before taking pictures!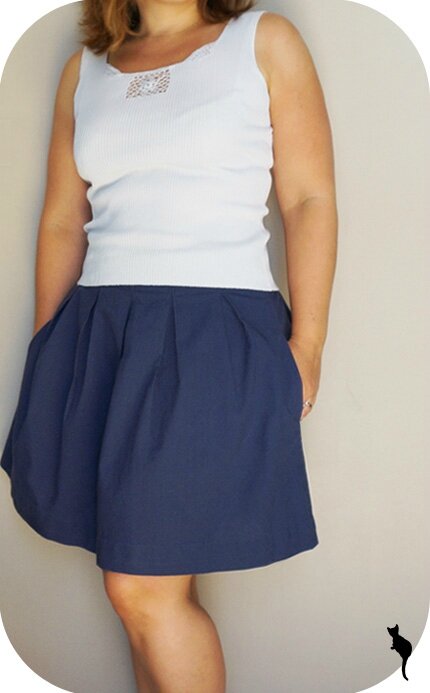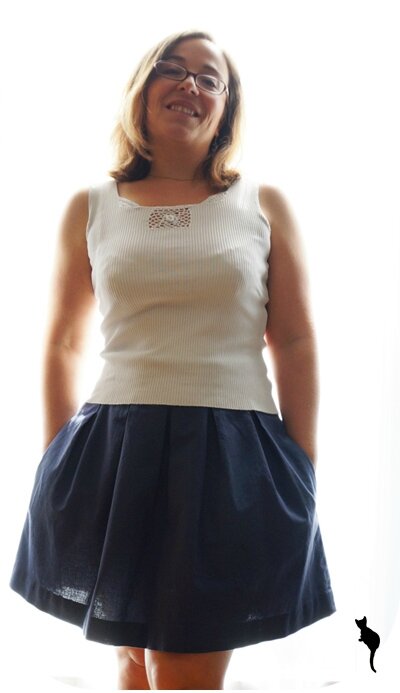 03 août 2014
Les plus attentives d'entre vous auront déjà aperçu ce tee-shirt sur les photos de ma veste.
Le patron est donc le modèle gratuit Kirsten Kimono tee de Maria Denmark. Le tissu est un jersey très doux de Mondial Tissu.
The most attentive amongst you will already have noticed this tee-shirt on my jacket pictures.
It is the free Kirsten Kimono tee pattern from Maria Denmark. The fabric is a very soft jersey from Mondial Tissu.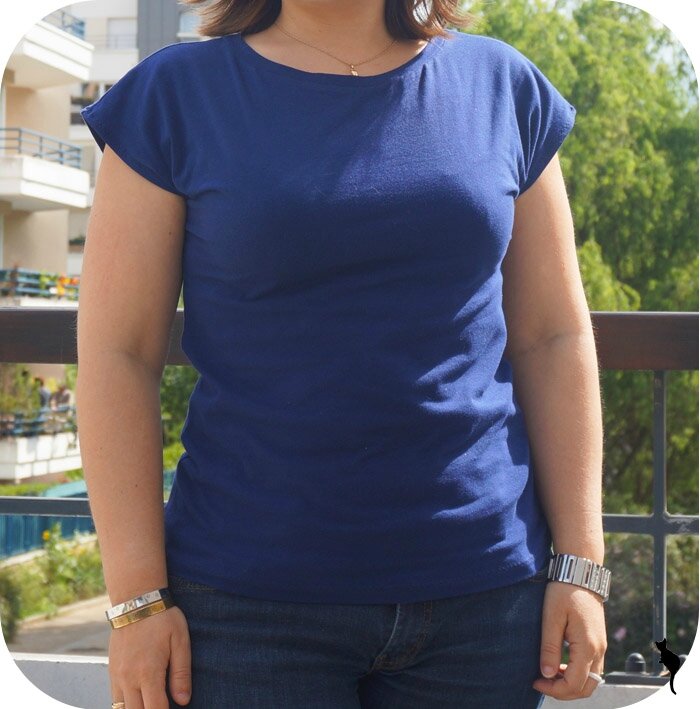 Mes mesures tombaient pile poil entre le S et le M, j'ai donc coupé le M sans marges de couture que j'ai intégralement assemblé à la surjeteuse. Le résultat est impeccable, pas trop serré mais pas large
My measurement fell right between the S and M sizes, so I cut the size M without seam allowances and assembled everything with my overlocker. the result is spot on, not too tight but not too loose.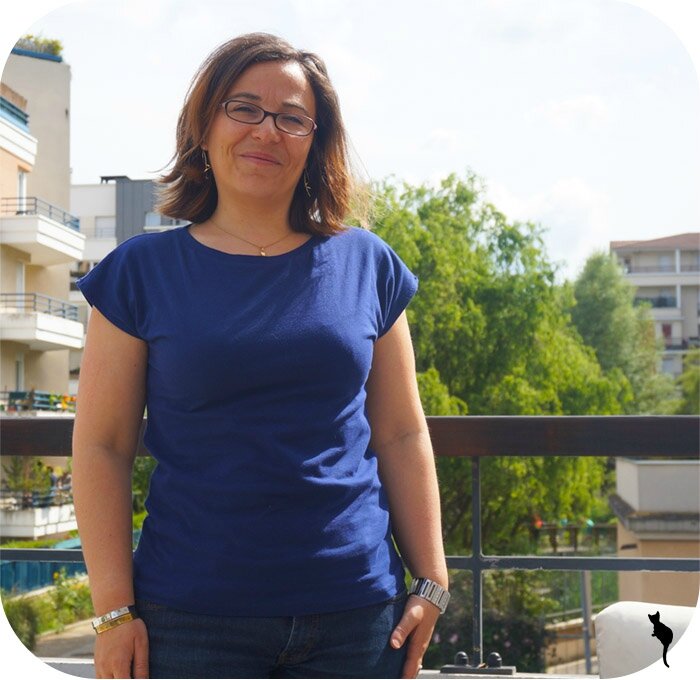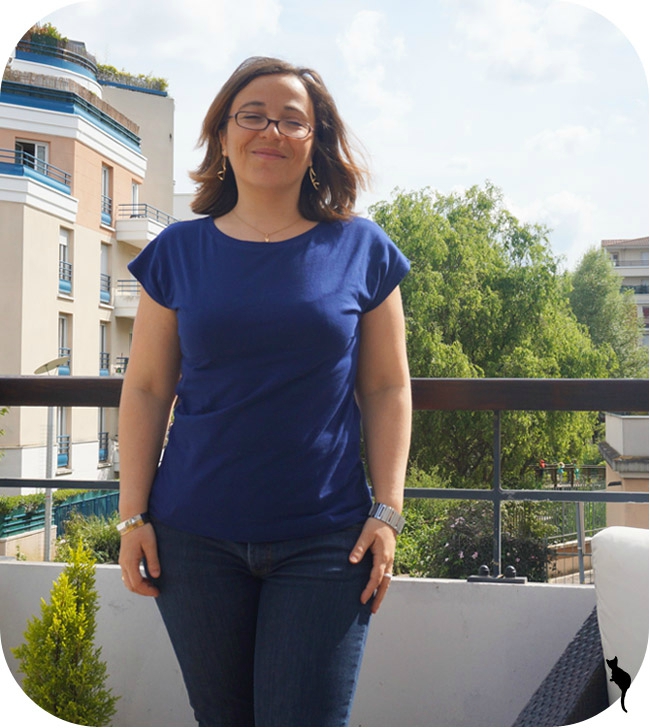 Pour faire l'encolure, j'ai du m'y reprendre à 2 fois. J'avais d'abord monté la bande d'encolure envers sur envers pour ensuite la rabattre sur l'endroit (cf ce tutoriel de Megan Nielsen si vous ne comprenez pas un mot de mes explications alambiquées). Mais une fois la bande montée je me suis rendue compte que ça n'allait pas et j'ai eu la joie de découdre du jersey cousu à la surjeteuse (avec les 4 fils). Et bien ce n'est pas une partie de plaisir! J'ai donc remonté tout simplement mon encolure endroit sur endroit avant de simplement la presser à sa place (comme ceci). C'est bien mieux comme ça. Par contre soit j'ai coupé ma bande d'encolure un peu trop petite, soit je l'ai mal répartie sur l'encolure, ou probablement un peu des 2, et du coup, l'encolure plisse un peu par endroit. Mais pas suffisamment pour que ça me dérange au point de découdre le tout à nouveau!
I had to unpick the neckband after assembling it from the inside and folding it outside over the seam allowance (see this tutorial from Megan Nielsen). But the band that too small and it looked just plain awful. Let me tell you that unpicking serged jersey is NOT a walk in the park. The second time around I just sew it from the outside, pressing it back into place (like this). I probably cut the band a little bit too short and didn't stretched it evenly, as there are some wringling in places. But not enough for it too bother me enough to unpick it again.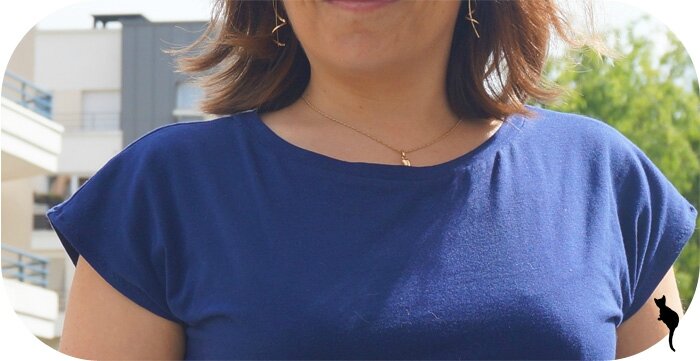 Pour finir les manches et l'ourlet, j'ai simplement fait un rentré et piqué à la machine avec un point zig-zag.
To finish the sleeves and the hem I just folded once and used a zig-zag stitch on my machine.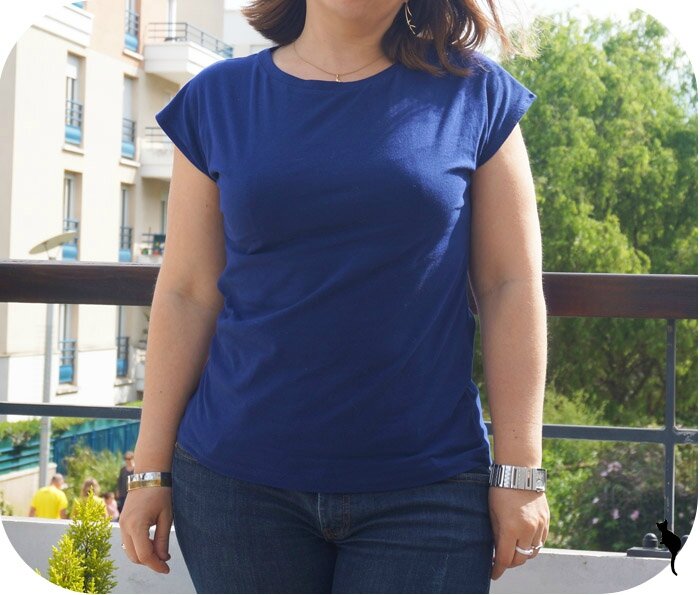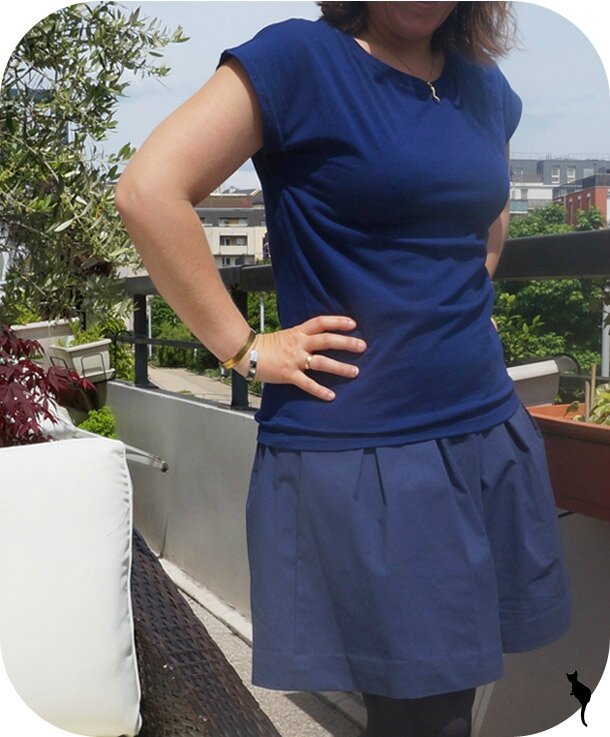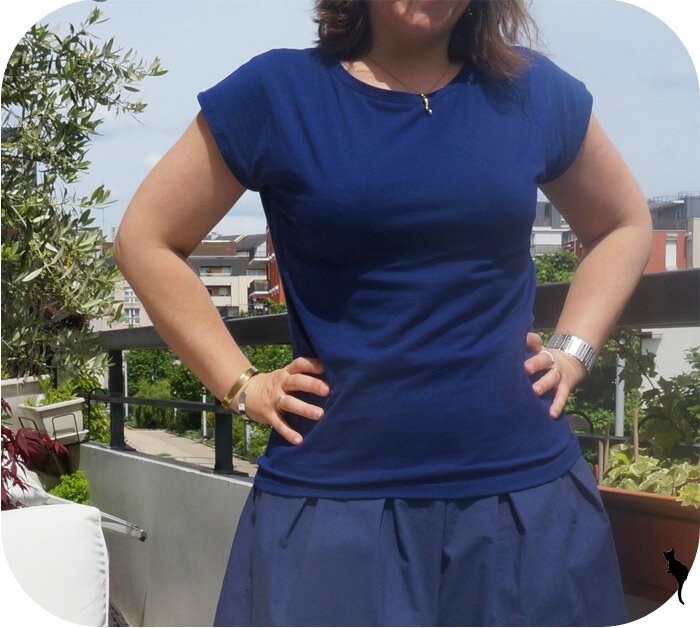 Ce tee-shirt a déjà été porté et reporté plusieurs fois, je l'adore. Je n'ai qu'une envie, lui faire des petits frères. Qu'est ce qui me retient me demandez-vous? D'autant plus que j'ai déjà la même qualité de jersey dans un superbe rose. Ma surjeteuse est enfilée avec du fil noir et j'ai eu tellement de mal à la regler quand elle est revenue de révision que ça m'angoisse de changer les fils. Est-ce que je suis la seule à avoir peur de déregler ma surjeteuse?
This simple tee-shirt has already been worn again and again. It's simple, I just love it! It fits perfectly with my lifestyle and what I like to wear. Now I just want to make many more. And I have more of that jerssey in my favorite pink! You'll ask me what's holding me back? My overlocker is threaded with black thread, and it took me so much effort to adjust it after servicing this winter, that I'm just really afraid to tinker with it. Is it stupid? Are you also afraid to mess up with your overlocker?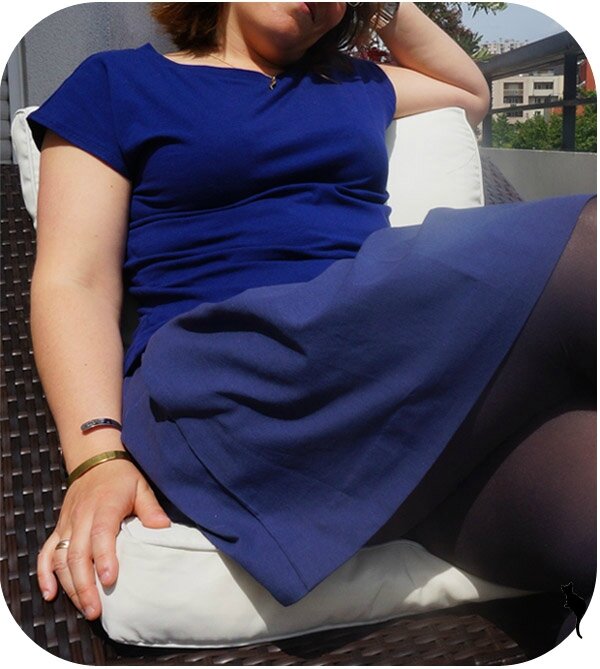 J'ai découvert ce patron par hasard. Quand on se rend sur le site de Maria Denmark il est offert gratuitement quand on s'abonne à la newsletter. Je suis très contente d'avoir essayé ce patron et maintenant j'ai bien envie d'essayer la robe Audrey ou la robe Signe. Et vous, vous avez déjà essayé des patrons Maria Denmark? Lequel est votre préféré?
I found this pattern by chance, as it's offered as a free download on Maria Denmark website when you subscribe to her newsletter. I'm really happy I sewed this tee-shirt, and now I'm really tempted to try the Audrey dress or the Signe summer dress. What about you? Have you tried any of Maria Denmark patterns? What's your favorite?