I must say I'm quite proud of what I'm about to show you. It's far from perfect and I'm still a little doubtfull of wether it will be worn a lot, but this jacket took me quite a long time to achieve and I'm happy I went through with it.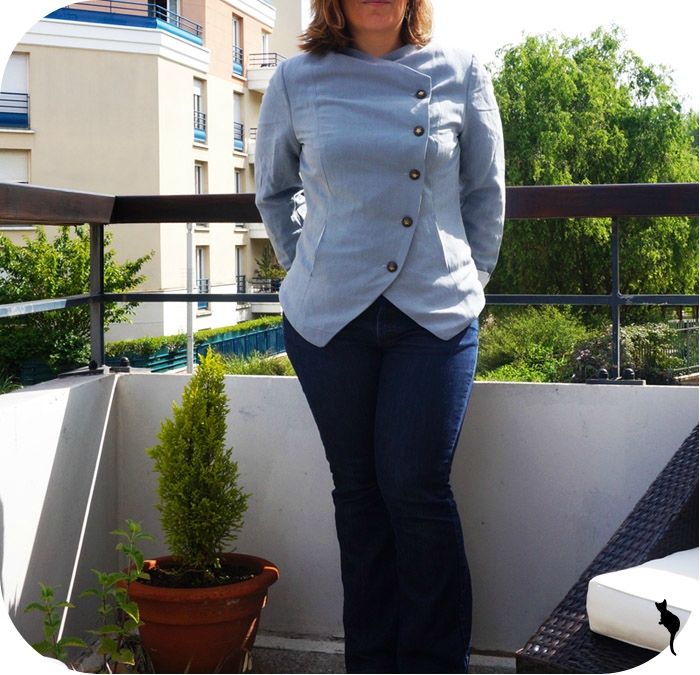 Pattern: Jacket #121 06-2012
The pattern is Jacket 121 from Burda June 2012.
When I saw the pattern in the magazine I immediately fell in love with the asymmetrical lapel. It gives the jacket a slight military feel, but not too much. I also like the little collar in the back. And, it has pockets.
As usual with Burda I wasn't very sure of which size to sew, so I made a muslin in size 40. Which fell quite good so I sew a size 40 without any modification. In the end, the sleeves are a little bit too long for me and the upper arms are a little tight. But it's wearable OK.
For the shell I chose a poly-linen blend from Les coupons de Saint-Pierre. I was hoping that the poly content would prevent the linen from wrinkling too much. I'm not sure that's a win, I'll see with time. But just so you know, I ironed the jacket JUST before taking the pictures. So I have some gut feeling that a full day wear will turn it into a wrinkled mess, like any other linen jacket.
It took me a while to choose the fabric I was gonna use as lining. I need to sew from stash (my fabric closet is full and if I want to buy new fabric, I need to empty some) but I didn't have any slippery fabric for the sleeves. Which is quite necessary if you intend to wear something with long sleeves underneath. In the end I thought that linen jackets are for the summer and in the summer you don't need long sleeves AND a jacket.
Yes, I rationalized my choice by restricting the window during which my jacket will be worn. You know what? It's OK.
So, for the lining I used a coton voile from Au bonheur des dames. When I bought it I didn't realise how sheer it was and was since wondering how to use it. And it's perfect as a lining (with above restriction).
I did cut the front and collar pieces in the outside fabric. Indeed I thought it would be strange for the lining to show when the jacket is worn open.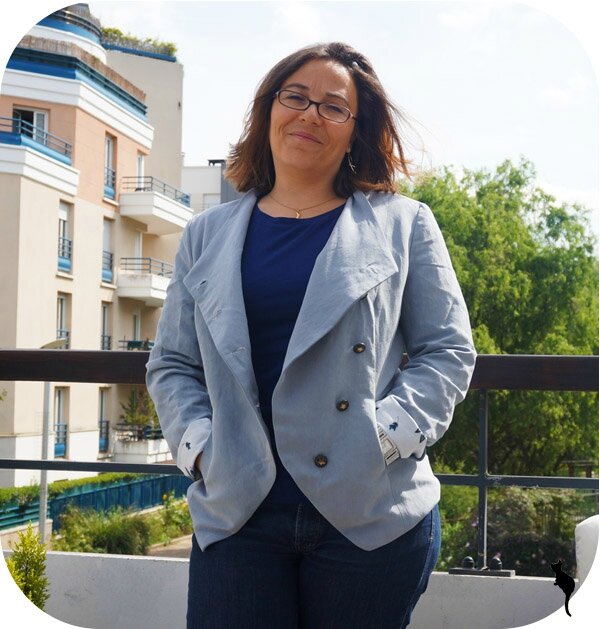 Instead of fusible interfacing for the collar and front facings, I added a layer of white coton voile, because I didn't want anything too stiff. In retrospect I probably should have used something with a little more body for the collar as it's very soft this way. It's not really bad but the collar always collapses on itself. But you know what? it's no big deal.
Pretty early in the making, the directions called for bound buttonholes. That gave me pause as I've never done bound buttonholes before. So I stopped and read the whole internet about bound buttonholes.
Really.
That lasted a while.
Then I trained on scrap fabric. That lasted a while too.
By that point, my jacket had been a work in progress for a couple weeks. But, as I was still too scared to screw the bound buttonholes up (and don't ask me why, I have no clue, my practice ones were perfect). I then thought that if I continued like that it would stay a WIP for ever. So, I did regular buttonholes (after practicing for a while) and went on.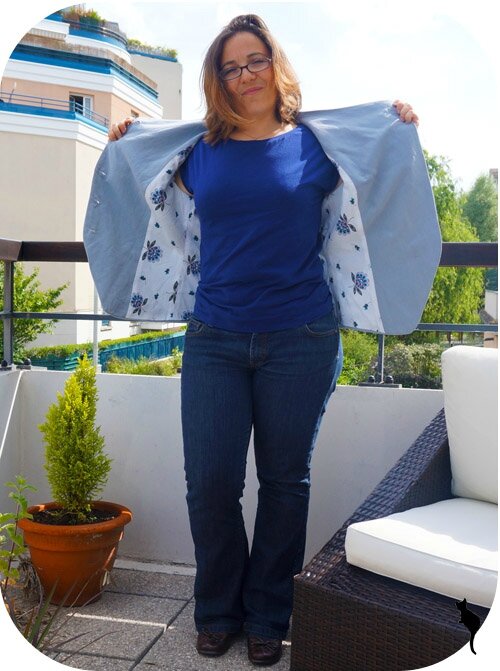 I also learned an important lesson about lined jackets. Let me tell you my story.
I had first sewed the outside. It was all nice and all. Then I sewed the lining in the same way. And I was very careful with the way the sleeves were attached. And it was so nice and such. And then I attached the outside and the lining together and inserted the lining for the sleeves in the sleeves. And then I realised that the vents of the lining were facing the wrong way. Indeed, I sewed the lining exactely like the outside, forgetting that you wear the lining inside out. I slept over my problem (I had already sewed the outside and lining together all around, leaving but a small opening at the back, and I didn't want to rip everything to switch the sleeves). And the next day, I carefully exchanged the sleeves through the small opening I had left in the back.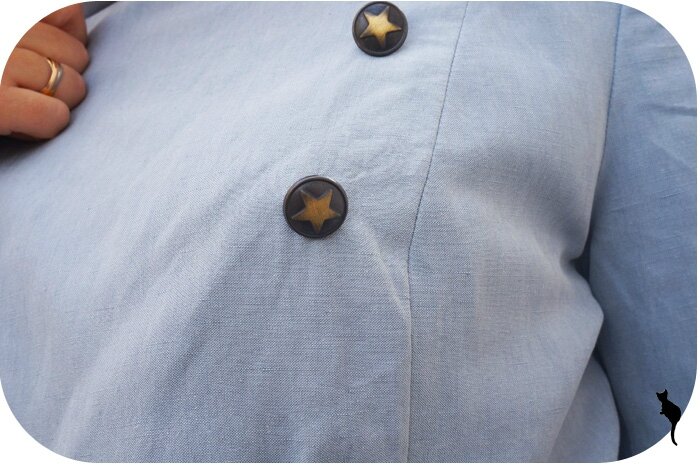 I love my buttons, they're from Phildar. They cost 10 times more than all the fabric used for the jacket, but it's OK, they're worth it.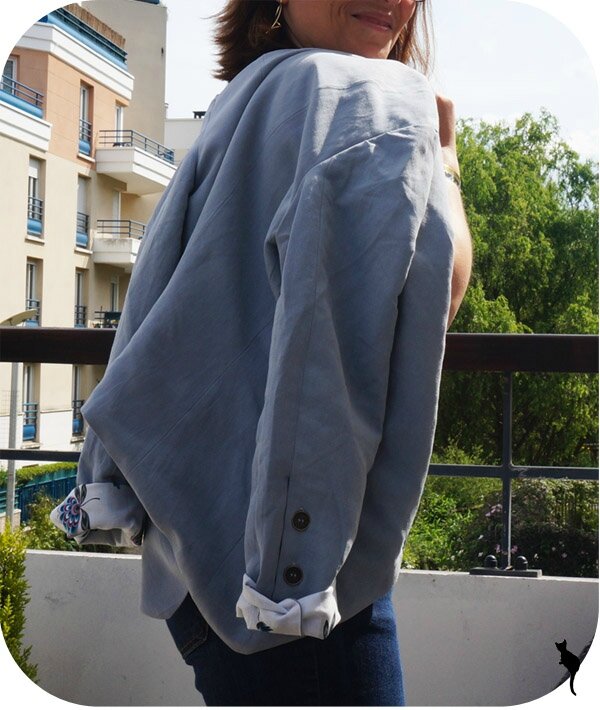 In the end, there was a lot of challenges for me in this jacket but I'm quite proud of it. We just need to have the right weather for me to wear it!