Sur ma lancée j'ai décidé de refaire encore un Sorbetto (on ne change pas une équipe qui gagne hein?). Pour celui-ci j'ai eu une vision (non, pas de la vierge): je voulais faire du color-blocking. L'autre inspiration vient d'une frustration vieille de 2 ans: un top raté pour lequel j'avais choisi 2 coupons de microfibre violet et orange mais que je n'ai jamais pu porter. Pourtant j'avais eu un coup de coeur pour ces tissus et leur association et j'étais vraiment vraiment frustrée de ne pas avoir pu réussir ce projet. Je cherchais donc un projet pour utiliser les chutes de ces coupons et enfin associer le violet et le orange. J'aurais préféré que la partie violette soit plus grande et avais envisagé d'inverser les couleurs, mais d'une part la chute de violet était un peu juste pour ça et d'autre part j'avais peur de mettre l'orange à côté de mon visage.
After my last Sorbetto, I was on a roll and decided to make yet another one. Maybe I'm addicted but I don't care. For this one I had a vision: I wanted to do some color-blocking. I have collected inspiration on pinterest for ages and it was time to act on it. The second inspiration came from a 2-year old frustration: a failed top for which I associated purple and orange and that I never wore. I was immensely disappointed of failing this project as I loved these fabrics and really really wanted to use them together. I was looking for a project to re-use the left-overs from this project. I wished the purple part (which is my favorite color from the two) was larger, and thought about inverting the colors, but that was not really possible as the purple piece was probably too small for that, and I was a little worried of placing the orange next to my face.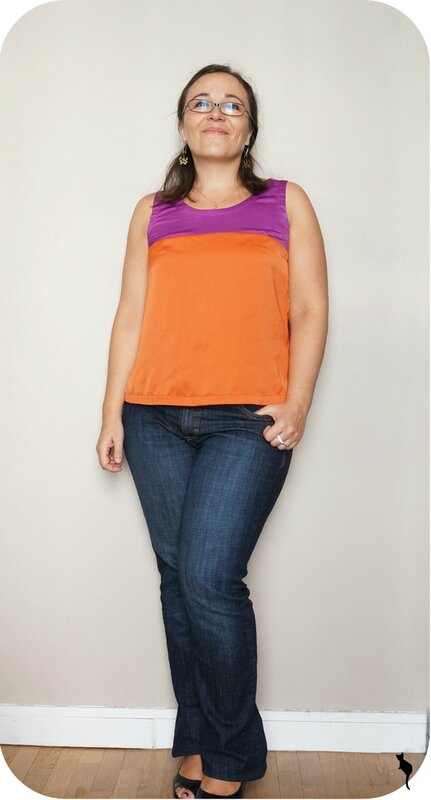 Pour modifier le patron du sorbetto, rien de plus simple, j'ai coupé le devant un peu au dessus des pinces et reporté la position sur la partie arrière à partir de la couture côté. Je n'ai pas oublié de rajouter les marges de couture sur les nouvelles pièces de patron.
It was very simple to modify the Sorbetto pattern, I just slashed the front piece a little bit above the bust darts, and reported that on the back piece from the side seam. I didn't forget to add the seam allowances on the new pattern pieces.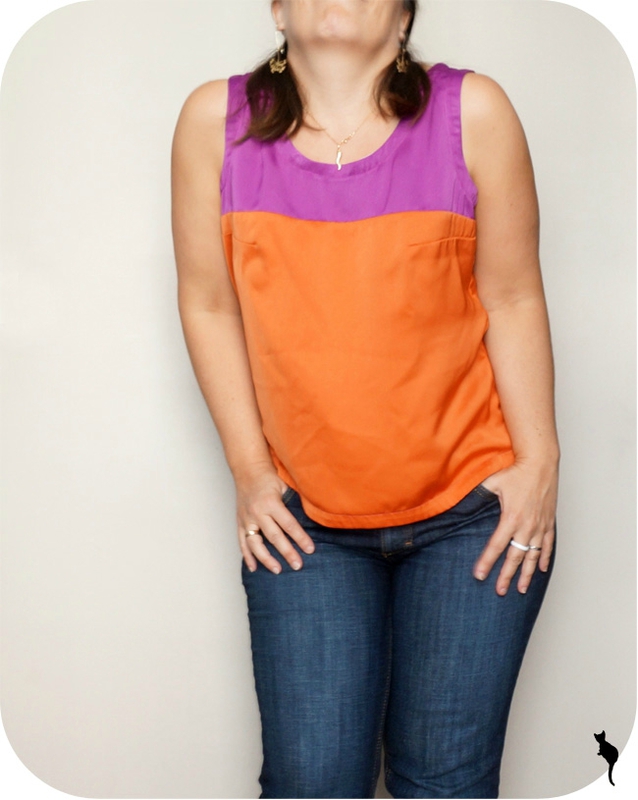 Pour l'ourlet j'ai utilisé un biais satin fuschia / violet dont la teinte matche celle de l'empiècement haut. Par contre j'avais peur que ce biais soit trop rigide pour l'encolure et les emmanchures (c'est souvent un problème avec les biais que l'on achète), alors pour ça j'ai à nouveau utilisé le biais en voile de coton blanc fait pour mon précédent Sorbetto.
For the hem I used a store-bought fuschia / purple satin biais almost exactely the same color as the yoke piece. However this biais is too stiff for the armholes and neckline (I think it wouldn't conform to the curves nicely), so I used again the white coton voile biais that I made for my previous Sorbetto (yes I made an insane length of it, told you it took me forever to make, and for good reason!).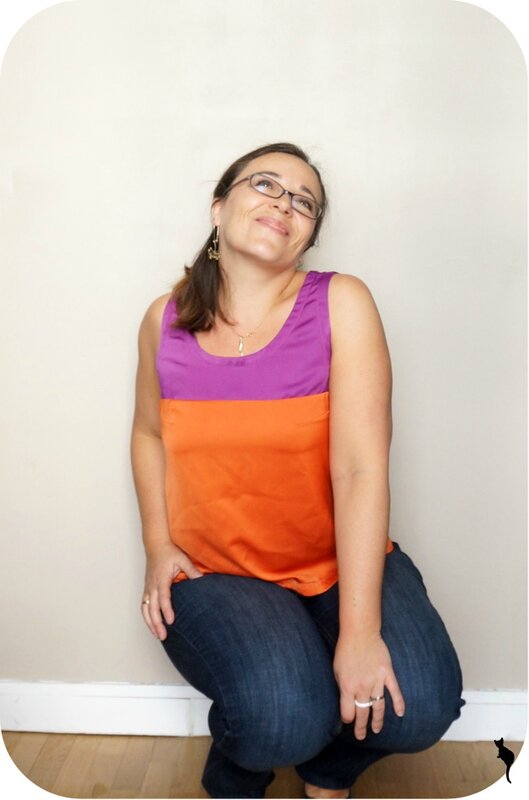 Au final, ce top marche plutôt pas mal même si ce n'est pas l'amour fou. Malgré tout le soin apporté à la pose du biais sur l'encolure, celle-ci n'est pas parfaite. Mais c'est plus moi que ça dérange, en vrai c'est moins flagrant que sur les photos où je ne vois que les défauts.
Je l'ai tout de même porté plusieurs fois avec plaisir. C'est un top à la fois décontracté (c'est un débardeur) et un peu habillé (c'est du tissu kibrille), parfait quand il aut avoir l'air un peu présentable même quand il fait chaud!
In the end, this top works even though I'm not madely in love with it. In spite of all the care I took sewing the biais on the neckline, it's far from perfect. Although I have to say that in real life the flaws are much less noticable than on the pictures (where I can't see anything but the flaws)
Still, I wore it several times and was very happy about it. It's casual (it's a tank top) and a little bit dressy (it's shiny) at the same time.So it's perfect when it's hot and you need to look put together but not formal.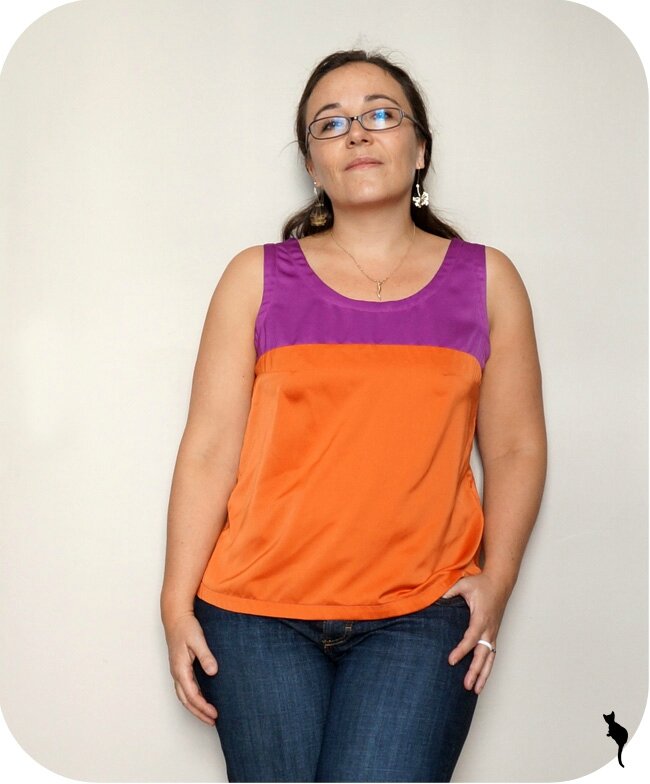 Patron: Top Sorbetto de Colette patterns
Taile: 6 - 8 - 10
Tissu: Marché Saint Pierre
Boucles d'oreille: Schlomit Ofir
Pattern: Sorbetto top from Colette patterns
Size: 6 - 8 - 10
Fabric: Marché Saint Pierre
Earrings: Schlomit Ofir