Il est temps que je vous montre mon dernier top de l'été avant qu'il neige!
J'adore mon Kirsten kimono tee (patron Maria Denmark) et j'avais très envie de me faire un top avec des manches kimono mais pas en jersey. Comme les tops avec cette forme ont fleuri dans les enseignes de prêt à porter cet été je me suis dit que je trouverais un patron sans problème. En général on retrouve bien les mêmes tendances dans le prêt à porter et chez les créateurs de patrons. Je cherchais un patron de top à manches kimono tout simple, sans détail à l'encolure ou nulle part, avec des petites manches et des pinces poitrines pour ne pas ressembler à un sac. Et bien ce fut beaucoup plus compliqué que ce que j'avais prévu! J'ai tous les magazines Burda depuis mars 2012 et la plupart des magazines Tendances couture, et bien je n'ai trouvé qu'un seul patron de top à manches kimono pour des etoffes tissés! Le seul patron trouvé dans ma collection est donc le Simplicity 1920 dans le magazine tendances couture # 10. Je vous encourage à aller voir la pochette simplicity, vous allez voir ça pique les yeux.
I should really show you my last top of the summer before we're too far into the fall / winter season.
I really like my Kirsten Kimono tee (a Maria Denmark sewing pattern) and I really wanted to sew a top with kimono sleeves in a woven fabric. I wasn't sure I could modify the Kirsten kimono tee to work with a woven, so I hunted for a pattern specifically designed for woven fabrics. I was looking for a simple kimono sleeve top without fuss, short sleeves and with bust darts to avoid the dreaded potato sack look. Kimono sleeve tops were quite on trend in RTW this summer and I thought it would be easy to find the desired pattern in my extensive Burda and Simpllicity collection. But I guess that would happen in a world where unicorns live! Usually you find the same trends in RTW and pattern designers. Well it seems pattern designers did not see the kimono sleeve thing coming. Indeed, I found a single pattern fitting the description in my collection: Simplicity 1920. Please go see Simplicity enveloppe and come back to tell me if your eyes bled (mine did).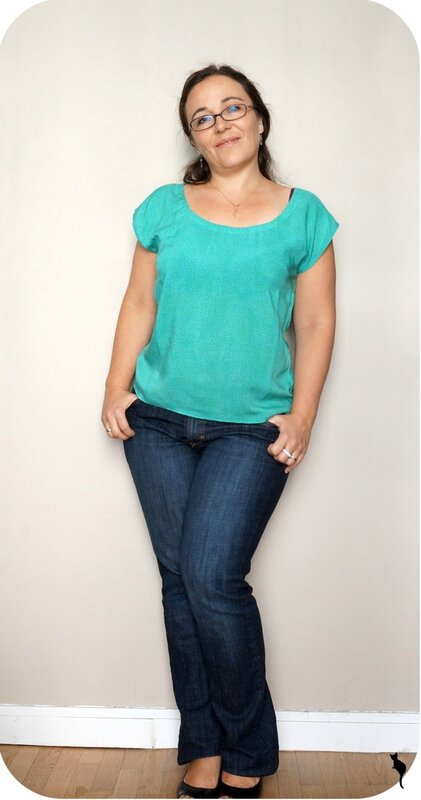 Donc je n'étais pas vraiment convaincue par la photo ni par le dessin technique (en particulier les manches en continuité du corps ne me plaisent pas), mais à défaut d'autre solution j'ai quand même décidé d'essayer.
J'ai donc décidé d'utiliser une viscose super légère et super douce de chez Mondial Tissu, et roule ma poule.
I wasn't thrilled by the picture or the technical drawing of the model (in particular the sleeves aligned with the body), but decided to go on anyway as I had no other easy solution.
I had a super light and super soft rayon from Mondial Tissu in my stash begging to be used, so I obliged.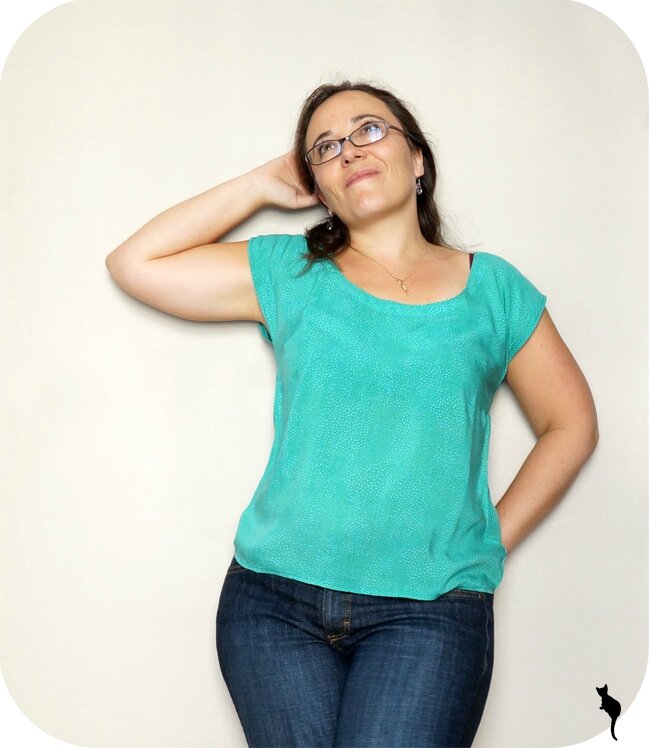 J'ai fait des coutures anglaises pour les épaules mais je n'ai pas pu en faire pour les côtés puisque les "manches" sont en continuité du corps. Pour les emmanchures et les surplus de couture des côtés j'ai donc fait un double rentré. Idem pour l'ourlet.
I french-seamed the shoulders, but I couldn't do the same for the side seam as the arm openings are aligned with the side seam. So I just turned under twice both the sleeve hem and side seam allowances. I did the same for the bottom hem.
Je ne me souviens plus de la technique préconisée par le patron pour l'encolure mais je sais que je ne l'ai pas suivie. Je ne voulais pas faire de parementure parce que l'idée d'utiliser la surjeteuse pour finir les bords de la viscose me colait des migraines rien que d'y penser. Je ne voulais pas non plus faire de biais dans la viscose pour la même raison (la manipuler dans le droit fil est déjà assez compliqué). J'ai donc décidé d'utiliser (encore) le biais en voile de coton que j'avais fait pour mon sorbetto. Je l'ai rabattu et ensuite attaché à la main à point caché.
I don't remember which technique was included in the pattern instructions for the neckline but I know I didn't follow it. I didn't want to do a facing because just the idea of serging the edge of this fine rayon gave me headaches. I didn't want to do a self fabric biais for the same reason (it was difficult enough to handle it on the straight grain). In the end I chose to use (again) the white coton voile biais I made for my sorbetto. I turned it under and stitched it by hand.
Le résultat est presque OK et ne se voit pas trop.
Mais le problème apparait après chaque lavage. En effet, la viscose et le voile de coton ne réagissent pas de la même façon au lavage: le biais de coton ne bouge pas ou presque, par contre la viscose se contracte. Et pour que l'encolure reprenne une apparence montrable je dois la repasser à mort.
The result is almost OK and doesn't show too much.
However a problem appears after each wash as the coton voile and the viscose don't behave the same after washing: the coton voile biais almost doesn't move, while the viscose contracts. Which means that I have to press the hell out of that top and especially the neckline for it to regain an acceptable appearance.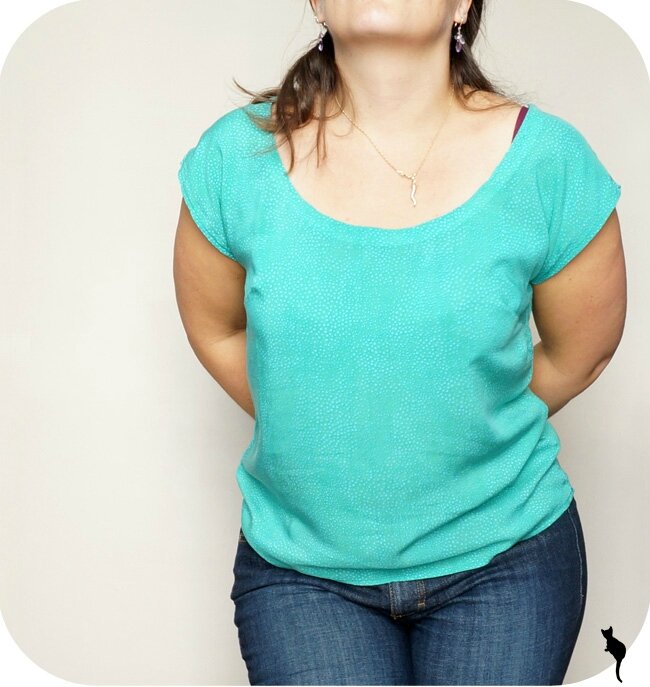 Au final, malgré ses imperfections ce top va dans les réussites et il a déjà été porté plusieurs fois (là, je pense qu'il est rangé jusqu'à l'année prochaine). La viscose est très légère est très agréable à porter quand il fait chaud. Il remplit également parfaitement le cahier des charges d'un top casual mais pas trop pour tous les jours au boulot.
In the end, in spite of its flaws, I think this top is a win and I already wore it several times (although I now think it won't see daylight until next year). The viscose is very light and very nice to wear especially when it's hot. It perfectly fills the requirement of an everyday top for work.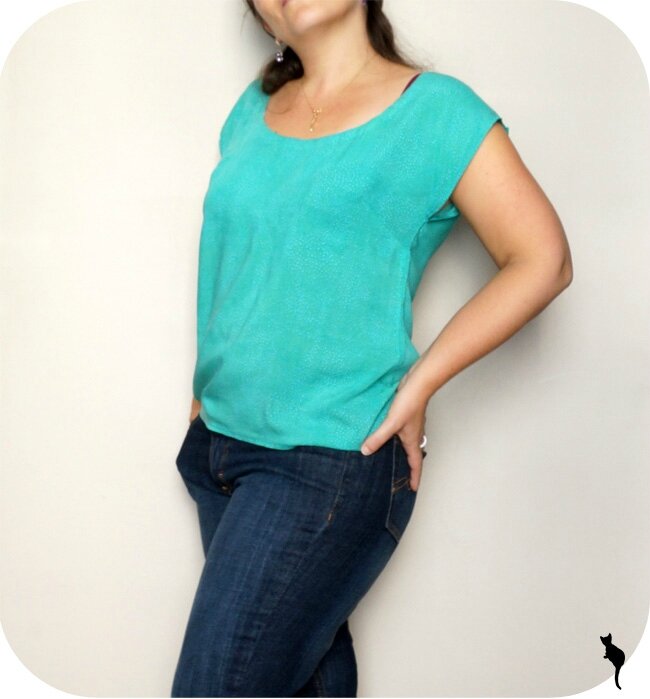 Patron: Top Simplicity 1920 (Modèle 32 Tendances couture #10)
Taille: 36/38
Tissu: Viscose Mondial Tissu
Boucles d'oreilles: Marc Orian
Pattern: Top Simplicity 1920
Size: 36/38
Fabric: Viscose Mondial Tissu
Earrings: Marc Orian